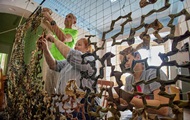 The National Bank decided to cancel a number of restrictions on the calculations of volunteers and businesses from August 6, according to the website of the regulator.
The restriction will not apply if a number of requirements are met simultaneously. In particular, transactions on a volunteer's account should be typical of transactions that were carried out on his accounts before July 21 and exceeded the equivalent of UAH 100,000 per month.
The bank must be provided with a letter from a government agency or military unit about cooperation with a volunteer and ordering goods for the appropriate purpose, if the amount of such an operation exceeds the equivalent of UAH 400,000 per month.
It is also required to provide the estimated cost of the goods and the timing of the order, and inform the bank volunteer about the collection of funds in order to pay for the products.
According to the resolution, the list of goods that individual volunteers can buy includes walkie-talkies, body armor, helmets, helmets, military and tactical uniforms, military and tactical shoes, protective clothing, optical surveillance devices, unmanned aerial vehicles, sleeping bags, mats and means for providing medical care.
The NBU emphasized that in order to prevent the use of the appropriate decision of the regulator for non-compliance with existing restrictions, it is determined that the presence in the bank of information from open sources regarding the unfair practices of an individual may be the basis for the bank to refuse to further carry out such operations in excess of the limit of UAH 100,000 per month (equivalent).
The regulator also includes walkie-talkies in the list of military goods, for the purchase of which citizens have the opportunity to buy currency and transfer it abroad within the monthly limit of UAH 400,000 (equivalent).
The National Bank also simplified currency restrictions for businesses, in particular the use of corporate payment cards.
The resolution allows banks to sell foreign currency to Ukrainian legal entities and individual entrepreneurs with crediting to the client's account in foreign currency for further use of the currency for expenses using corporate payment cards abroad.
In particular, these funds can be spent on business trips of employees abroad solely to pay per diem expenses within the daily limit of 80 euros (equivalent) per employee, for accommodation and travel expenses (with documentary evidence of the calculation of these expenses).
It was also determined that the restriction on settlements abroad within the limit of UAH 100,000 (equivalent) per month will not apply to the bank's clients – legal entities that carry out the transportation of goods in international communications on the basis of documents granting the right to carry out the relevant transportation.
As a reminder, the NBU has set new limits on settlements with hryvnia payment cards abroad from July 21.

News from Perild.com in Telegram. Subscribe to our channel