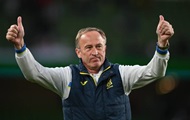 Alexander Petrakov outlined plans for September.
In September, the Ukrainian national team will continue its performance in the League of Nations.
The head coach of the national team Alexander Petrakov shared his plans for the future. According to the functionary, he plans to start the training camp in Warsaw on September 16, and on the 19th arrive in Scotland, where legionnaires will join the team.
"I can't say for sure yet – it depends on how our clubs will perform in European competitions. Most likely, we will gather somewhere near Warsaw, I would like on September 16, with players who, we hope, will play in European competitions and will be based in Poland.
Read also: Beautiful, not bad, good, terrible: how Ukraine spent the end of the season
As for the legionnaires, I have already scheduled a training session for the evening of September 19 in Glasgow – there the team will gather in full force. We will arrive there, leaving Warsaw in the morning, and the guys from foreign championships should arrive during the day," Petrakov said.
Recall that in September the Ukrainian national team will play three matches – twice against Scotland (September 21 and 27) and Armenia (September 24).