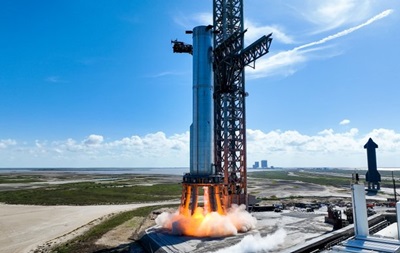 Photo: twitter.com/SpaceX
test booster for Starship rocket
On the first test, which took place on July 12, the booster exploded at the Boca Chica spaceport in Texas.
US entrepreneur Elon Musk's SpaceX has successfully completed a static fire test of its Booster 7, a month after the previous attempt ended in a bang. About it informs Engadget.
This time, the team fired just one Raptor engine on the orbital launch pad, running it for a few seconds so the engineers could take a close look at its performance.
It is noted that the Booster 7 booster is equipped with 33 version 2 Raptor engines, which should provide the lift necessary to launch both the very first stage and its upper stage, the Starship spacecraft.
In addition to testing Booster 7, SpaceX also conducted a static fire test of two of the six Raptor engines on Starship24. This is a prototype upper stage, and it is he who will fly into space for the first orbital flight test of the system.
However, the date of the orbital launch of Starship is still unknown.
Static fire test of two Raptor engines on Starship 24 pic.twitter.com/NNpViztphI

— SpaceX (@SpaceX) August 10, 2022
Earlier it was reported that SpaceX successfully launched a Falcon 9 launch vehicle with another batch of 52 mini-satellites.

SpaceX launches new space telescope

News from Perild.com in Telegram. Subscribe to our channel