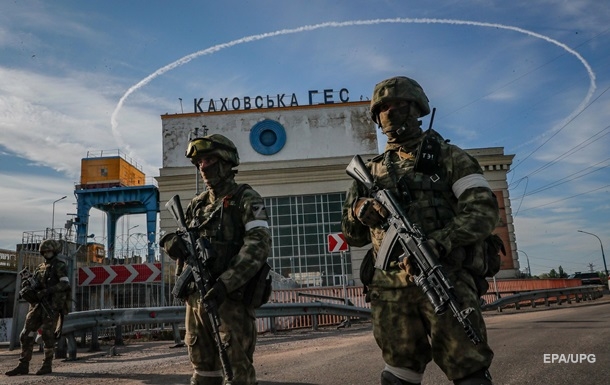 Kakhovskaya HPP can no longer be used for the transfer of Russian forces
Ukrainian servicemen disabled all bridges across the Dnieper in the occupied part of the Kherson region.
The bridges across the Dnieper in Kherson and Nova Kakhovka became unsuitable for essential military supplies to the Russian occupiers after the strikes of the Armed Forces of Ukraine. This is stated in the summary of British military intelligence, writes the British Ministry of Defense on August 13.
The two main road bridges that provided access to the Russian-occupied territories on the right bank of the Dnieper in the Kherson region cannot be used for military supplies.
On August 10, precision strikes by the Ukrainian army made the bridge across the Dnieper at Nova Kakhovka unsuitable for heavy military equipment. In recent days, Russia has only been able to carry out surface repairs to the damaged Antonovsky Road Bridge, but structural damage remains.
Last week, the main railway bridge near Kherson suffered even more damage.
Since the end of July, Russia has been using the pontoon crossing at the railway bridge as the main supply route for its army. Even if Russia manages to carry out significant repairs to the bridges, they will remain a major vulnerability.
Bridges in Kherson
"Ground resupply of several thousand Russian troops on the west bank is almost certainly dependent on just two crossing points on pontoon ferries. With their supply chain limited, the size of any stocks Russia manages to build on the west bank is likely to be a key factor in the resilience of the force." summarized in the summary.

Latest Defence Intelligence update on the situation in Ukraine – 13 August 2022

Find out more about the UK government's response: https://t.co/icdVutdq7e

🇺🇦 #StandWithUkraine 🇺🇦 pic.twitter.com/Kr4S3qEqJA


— Ministry of Defence 🇬🇧 (@DefenceHQ) August 13, 2022
In recent days, the Russian invaders have transferred dozens of battalion-tactical groups from the east of Ukraine to the south. These are thousands of fighters and hundreds of pieces of equipment. The number and composition of the new group do not indicate a desire to hold the occupied territories during the counteroffensive of the Armed Forces of Ukraine, but go on the offensive, experts say.
It is assumed that Nikolaev, Zaporozhye and Krivoy Rog can become the targets of the invaders. About this in detail in the material of the Russian Federation is preparing an offensive in the south: what are the prospects.

News from Perild.com in Telegram. Subscribe to our channel