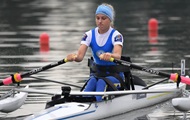 The athlete brought the second medal of the competition to the treasury of the Ukrainian team.
Ukrainian Anna Sheremet won the bronze medal at the 2022 European Multisport Championship, which takes place in Munich.
In para rowing in the PR1 class, the Ukrainian athlete showed the third result, covering the distance in 11:18.55 minutes.
The Ukrainian lost only to the Paralympic champion Birgit Skarstein from Norway and Manuela Djöning from Germany.
Multisport Euro 2022
Paraacademic dam
women, singles
Final
1. Birgit Skarstein (Norway) – 10:59.89
2. Manuela Diening (Germany) – 11:07.89
3. Anna Sheremet (Ukraine) – 11:18.55
The Sheremet medal was the second for Ukraine at the multisport Euro 2022. Previously Silver Award in Para Rowing conquered by Roman Polyansky.
Recall that all are available on ISPORT results of Ukrainians at multisport Euro 2022 for today.