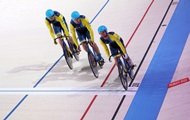 Find out with ISPORT where Ukrainians will compete today at the championship in Munich.
On Thursday, August 11, the Multinational European Championship 2022 started in Munich (Germany). The national team of Ukraine also takes part.
Competitions will be held in the categories: athletics, cycling, rock climbing, beach volleyball, gymnastics, table tennis, rowing and canoeing, rowing and triathlon.

Read also: A new analogue of the Olympic Games: what you need to know about Multisport Euro 2022
Today, on August 15, the next competitions will take place, in which Ukrainian athletes will take part.

Schedule of performances of Ukrainians at the Multisport Euro 2022
11:00. Athletics: Roman Kokoshko (shot put, qualifying)

11:05. Table tennis: Evgeny Prishchepa (singles, group stage)

11:25. Athletics: Yana Gladiychuk, Marina Kilipko (pole vault, qualification)


11:30. Athletics: Tatiana Gamera, Victoria Kalyuzhnaya, Marina Nemchenko, Evgenia Prokofieva (marathon, final)

12:15. Table tennis: Yaroslav Zhmudenko (singles, group stage)


12:30. Athletics: Igor Gelety, Vitaly Shafar (marathon, final)

15:00. Climbing: Oksana Burova, Elizaveta Lavrikova, Alina Shchigareva, Daria Tkacheva (speed, qualification)

15:30. Climbing: Konstantin Pavlenko, Daniil Boldyrev, Yaroslav Tkach (speed, qualification)


16:00. Climbing: speed, women, final


16:45. Climbing: speed, men, final

17:25. Table tennis: Tatyana Bilenko (singles, group stage)

18:00. Table tennis: Salomea Brateiko (singles, group stage)


19:09. Cycling: Anna Solovey (track, omnium, final)


19:45. Cycling: Nikita Yakovlev (track, omnium, final)

20:00. Athletics: Daniil Danilenko (400m qualifying)


21:58. Athletics: shot put (final)


22:48. Athletics: Valeria Zinenko (10,000 meters, final)
Available on ISPORT results Ukrainians for the last competitive day.