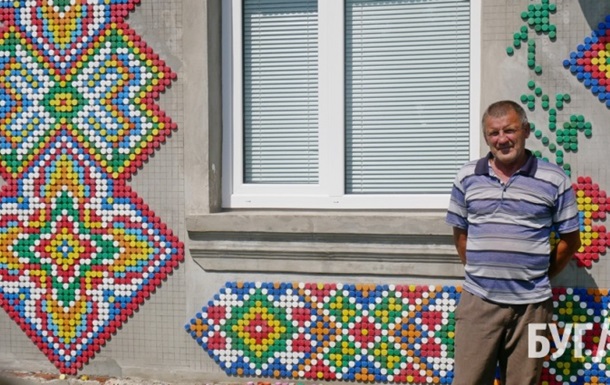 Photo: bug.org.ua
In Volyn, a man decorated the house in "vyshyvanka"
The artist started gluing the covers last year and finished this spring. According to him, some covers burn out in the sun and then they have to be replaced.
Nikolai Levchuk, a resident of the Volyn region, decorated the walls of his house with an embroidered shirt made of plastic caps. He spent 16 years looking for them. The publication writes about it Bug.
The husband lives in the village of Drevesina. His house became an adornment of the entire Ivanichevsk society.
It is known that Levchuk is an artist, he previously painted, but due to an accident he injured his right hand. Now he has found a new implementation for himself.
The creator of the "vyshyvanka" admitted that the idea was born at the expense of an artist from Transcarpathia, who also decorated her house with colorful caps.
"I have been collecting caps for 16 years. But not every day. But several days a month. I was mainly looking for them in winter. But if you count all the days, then more than a year will definitely be spent collecting caps," the master said.
More than 20 thousand covers are used in the ornament. He first drew the pattern on paper, and then laid it out on the floor at home.
"After I measured the wall, made special calculations and drew small squares on the surface of the house smoothed with a primer in order to know exactly where to hook the cap, and wrote what color it should be. And after that I took the cap on frost-resistant glue for outdoor use to keep it longer ", the man added.
In addition, a path with an ornament also leads to the "embroidered" house. Also in the patterns "dressed" in the summer kitchen artists.
Recall that earlier in the Chernihiv region they decorated the house with kilometers of garlands.

Machete in the head and dismemberment – the artist decorated the house for Halloween

News from Perild.com in Telegram. Subscribe to our channel