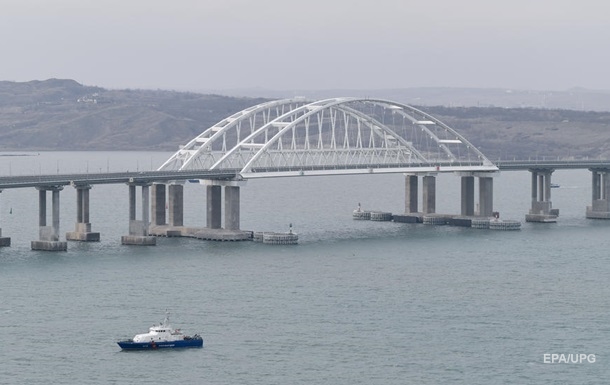 The Crimean bridge is a completely legitimate target for APU strikes
Ukraine has no restrictions on the destruction of Russian military facilities in the occupied Crimea.
Ukraine is behind at least three explosions in Russian-occupied Crimea – at the Saki air base, at the ammunition depot in Mayskoye and at the airfield in Gvardeisky, reports CNN with reference to an anonymous source among Ukrainian officials. According to the channel, the report describes the Saki airbase as a heavy but one-time loss to the military infrastructure of the Russian occupiers in Crimea, and the subsequent attacks as proof of Ukraine's systematic military potential in delivering strikes on the occupied peninsula.
Officially, the Ukrainian authorities did not confirm involvement in the explosions. At the same time, in Ukraine they are increasingly talking about the Crimean bridge, built by the occupiers, as the next goal.

No restrictions
Defense Minister Oleksiy Reznikov said that Ukraine has no restrictions on the destruction of Russian military facilities in the occupied Crimea. According to him, there is an agreement with the United States not to use the provided Western weapons for strikes against Russia. However, this agreement does not apply to the territories occupied by Russia.
Reznikov also expressed hope that the United States would make a political decision to provide the Ukrainian Armed Forces with ATACMS missiles with a range of 300 kilometers. This is enough to hit targets in all the occupied territories, as well as in the border regions of the Russian Federation.

Illegal construction
Advisor to the head of the President's Office Mykhailo Podolyak said that Ukraine considers the Crimean bridge, which connects the occupied peninsula with Russia, as a legitimate military target.
In an interview The Guardian he called this bridge "illegal construction".
"This is illegal construction and the main supply gate for the Russian army in Crimea. Such facilities must be destroyed," Podolyak said.

Careful security
Secretary of the National Security and Defense Council Alexei Danilov reported that the Russian Federation is very carefully guarding the Crimean bridge.
"They have exercises almost every day. The amount of air defense they put in to protect this facility is simply insane. This suggests that they are quite serious about the weapons that our troops have, "said Danilov.
The occupation authorities of the peninsula decided to close the bridge from the occupied peninsula to the Russian Federation until 6:00 am on August 17 for the passage of people. According to Ukrainian intelligence, the occupiers are spreading information that the bridge will soon be fired upon by the Armed Forces of Ukraine, because it is closed for the safety of civilians.