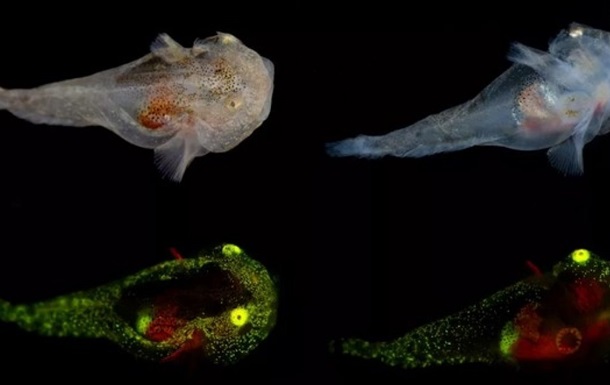 Фото: John Sparks and David Gruber
glowing fish
Researchers have discovered a speckled snail fish glowing bright green and red in an icy habitat.
Scientists drilling into an iceberg off the coast of Greenland have discovered a glowing, colorful snail fish with green antifreeze running through its veins. This arctic fish species has the highest levels of antifreeze of any known species. About it informs Live Science.
Antifreeze is said to help regulate car engine temperatures in extreme conditions, and certain species have evolved to have similar protection, especially those that live in cold habitats such as the polar waters off the coast of Greenland.
According to experts, antifreeze proteins were first discovered in some Antarctic fish almost 50 years ago. The antifreezes in the blood of variegated snailfish keep the blood from crystallizing. Thus, this shows how important they are for the survival of fish in extreme habitat conditions.
"Antifreeze proteins are vital to variegated snail fish. They make them like other proteins, and then that antifreeze is released into the bloodstream. It's also important to note that these fish are biofluorescent creatures, meaning they glow green and red in the water. This is especially true for juveniles," said David Gruber of the American Museum of Natural History.
Also in the course of research, scientists identified two different families of genes encoding antifreeze proteins.
This level of antifreeze production may help the species adapt to sub-zero ambient temperatures, however it remains unknown if this fish can survive rising ocean temperatures as a result of global warming.
Earlier it was reported that scientists have recreated the singing of an insect that was last seen in 1869.

Scientists have figured out how animal fossils are formed

News from Perild.com in Telegram. Subscribe to our channel