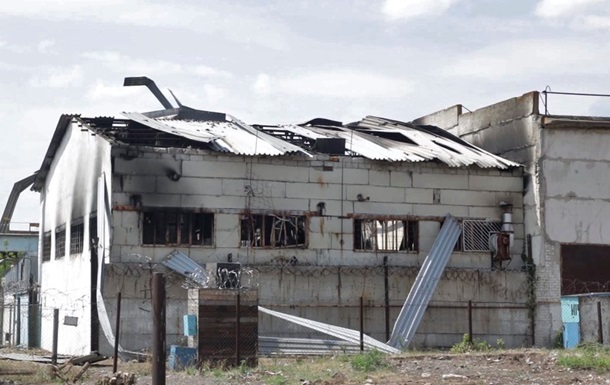 Photo: AR (file photo)
Pre-trial detention center in Yelenovka, Donetsk region, where dozens of Ukrainian prisoners of war died
The investigation team will be led by Brazilian General Carlos dos Santos Cruz. This is "a very attentive officer," António Guterres assured.
UN Secretary-General António Guterres decided to conduct a mission to identify and establish the facts of the tragedy on the territory of the colony in the village of Yelenovka in the temporarily occupied part of the Donetsk region. He announced this on Thursday evening, August 18, at a briefing following a meeting with the Presidents of Ukraine and Turkey, Vladimir Zelensky and Recep Tayyip Erdogan in Lviv.
"Today we discussed the investigation into the tragedy that occurred on July 29 at the facility where prisoners of war were held in Yelenovka. What happened is unacceptable," Guterres said.
The UN Secretary General recalled that all prisoners of war should receive protection in accordance with international humanitarian law.
"I decided to conduct a mission to identify and establish the facts. The conditions for this mission were communicated to Ukraine and Russia. In addition to the conditions, the composition of the group that will be involved in the implementation of the investigation was noted. I have the goal of appointing General Carlos dos Santos as head of the group Cruz from Brazil," Guterres said.
According to him, this is a "very attentive officer" with more than 40 years of military service. He worked in the field of national, international and public security, and also led one of the peacekeeping operations.
Speaking about the forthcoming work of the mission, the UN Secretary General noted that its participants should have safe and guaranteed access to places of detention.
In addition, according to Guterres, members of the International Mission of the Red Cross should also have access to Yelenovka.
Recall, on July 29, the "DNR" stated that during the shelling of the colony in Yelenovka, 47 people were killed, 75 were injured, including eight guards.
In turn, the General Staff of the Armed Forces of Ukraine reported that the armed forces of the Russian Federation carried out targeted deliberate shelling in Yelenovka, and statements about alleged shelling from the Ukrainian side are an outright lie and a provocation.
It was also reported that the Main Intelligence Directorate sees no reason to trust the lists of the Russian Federation on the victims in Yelenovka.

News from Perild.com in Telegram. Subscribe to our channel