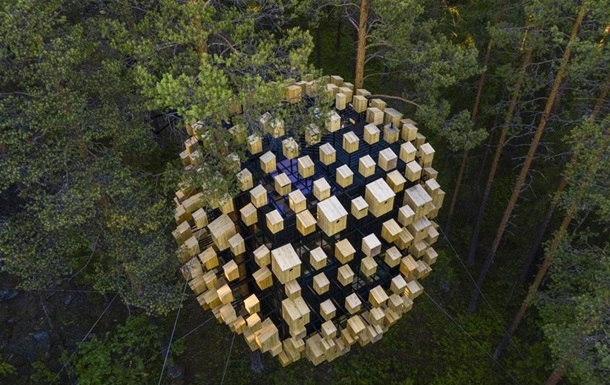 Photo: hypebeast.com
A hotel room on a tree appeared in Lapland
One night in such a hotel will cost from 1180 US dollars. The cost depends on the season.
Danish architecture firm Bjarke Ingels Group (BIG) has completed a treehouse hotel room in Swedish Lapland. The company has created a spherical hut that is covered with 350 bird houses, reports Нypebeast.
A project called Biosphere is suspended among the trees of the Harads forest at the Treehotel resort, which is famous for its impressive list of cabins designed by some of Scandinavia's leading architects.
"Establishing bird nests is an important measure. In addition, climate change causes an insect boom at the beginning of the year, and by the time the chicks hatch, the boom is already over. Feeding is an important support mechanism for the birds that remain in the North Sweden and need food in winter. Demonstrating the use of bird nests and feeding, not only at Treehotel, but also for people who can install them near their homes, is very valuable. Treehotel's initiative to take such measures can inspire their visitors to do the same", – told the company.
Visitors enter the room through a suspension bridge. Inside, they are transported to a space that feels gloomy and secluded – with dark interiors and organic materials inspired by the density of the surrounding forest.
"By changing the individual sizes of bird nests and extending them outward, and depending on the type and frequency of birds in the area, light can enter the interior while maintaining the appearance. By setting up a new hotel room in an environmentally friendly environment, guests are given the opportunity to experience with birds in close proximity, being at the epicenter of nature," BIG added.
Recall that the world's first five-star Dolce Hanoi Golden Lake hotel with gold-plated interior and exterior details has opened in the capital of Vietnam.

In Berlin, the prison was turned into a family hotel

News from Perild.com in Telegram. Subscribe to our channel