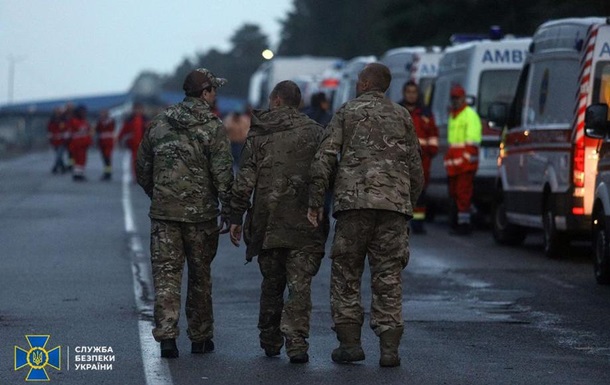 Photo: SBU
One of the exchange points is the Chernihiv region on the border with Belarus
In the Chernihiv region, prisoners of war were met by 30 ambulances with doctors and paramedics.
A large-scale exchange of prisoners of war between Ukraine and Russia was carried out simultaneously at three locations. This was stated by the Commissioner of the Verkhovna Rada for Human Rights Dmitry Lubinets on the air of the national telethon on Thursday, September 22.
"The exchange was carried out simultaneously at three locations. One plane is 10 citizens of foreign states who flew from the Russian Federation and flew to the UAE. The other plane – these are five of our commanders from Azovstal – flew to Turkey. And the location where I was directly involved – this is the Chernihiv region on the border with Belarus. We simultaneously received 200 of our heroes and heroines and handed over 55 prisoners of war of the Russian Federation," Lubinets said.
According to him, in the Chernihiv region, the prisoners were met by 30 ambulances with doctors and paramedics. Some Ukrainians needed medical assistance from the first minutes after the exchange.
Lubinets added that the conditions of detention of Ukrainians in Russian captivity were terrible and did not meet international standards.
"Many of our boys and girls were kept in solitary confinement, they were given very little food, practically no personal hygiene products … According to our information, yesterday our heroes were kept blindfolded for six hours. Knowing that they were being handed over, they were still kept in buses with with their eyes rolled up, and only after the process had already begun, late in the evening they were finally allowed to remove these bandages," Lubinets said.
He assured that Ukraine, unlike Russia, strictly adheres to the Geneva Convention on the Treatment of Prisoners of War.
Recall that on the evening of September 21, Ukraine returned 215 captured defenders from captivity. 200 of them were exchanged for the people's deputy and godfather of Vladimir Putin, Viktor Medvedchuk, suspected of treason, five – for 55 Russians.

News from Perild.com in Telegram. Subscribe to our channel