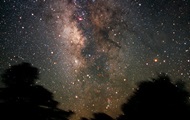 The Milky Way is a giant galaxy that is rapidly spinning. Every hour our solar system flies 900 thousand kilometers of space.
Astronomers claim that the Milky Way has left its old heart in the constellation Sagittarius. About it informs Science News.
New data from the Gaia spacecraft shows scientists where the galaxy's original core – an ancient stellar population around which the rest of the Milky Way grew – formed more than 12.5 billion years ago.
"We have long assumed that such a giant cluster of old stars should be located somewhere in the center of the Milky Way, and now the Gaia spacecraft has shown them to us," says Hans-Walter Rix, an astronomer from the Max Planck Institute for Astronomy of the Max Planck Institute for Astronomy.
It is noted that the ancient heart of the Milky Way is a round protogalaxy that extends almost 18,000 light-years and has a stellar mass of about 100 million times that of the Sun, or about 0.2 percent of the current stellar mass of the Milky Way.
"The study gives us more information about the youngest stage of the formation of the Milky Way. We have seen some glimpses of this stellar population before, but the new work allows us to look at it in its entirety from a bird's eye view," said Vasily Belokurov, an astronomer from the University of Cambridge.
The experts also stressed that stars from the center of the Milky Way are usually abundant in metals, which appeared in large quantities due to the explosions of previous star populations. But the Ricks team wanted to find stars with very low metal abundances, which could only have appeared at the dawn of galaxy formation.
The result was a sample of 18 thousand ancient stars, which is the core around which the entire galaxy blossomed. Taking into account the stars hidden by dust, Ricks believes that the protogalaxy is 50-200 million times more massive than the Sun.
"This is the original core of our galaxy," explains the scientist.
Earlier it was reported that James Webb took the clearest picture of Neptune's rings in more than 30 years.

Extraterrestrial water found in meteorite for the first time

News from Perild.com in Telegram. Subscribe to our channel