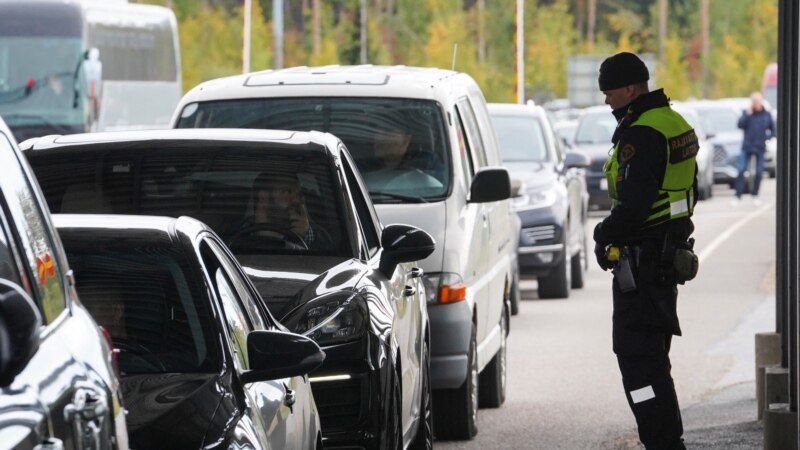 After the announcement of the start of mobilization in Russia, thousands of men are trying to leave the country. The Baltic countries have previously introduced restrictions on the issuance of visas to Russians, including by banning entry on tourist Schengen visas issued in third countries. All EU countries have repeatedly stressed that the restrictions do not apply to those who leave for humanitarian reasons. However, in recent days, countries that have a land border with Russia have said that fleeing the mobilization is not seen as a humanitarian reason.
Latvia, Lithuania, Estonia and Finland will not issue humanitarian and other visas to citizens of the Russian Federation who avoid mobilization. This was announced on Wednesday by representatives of these countries. Lithuania will consider the request for humanitarian visas on an individual basis depending on each case, leaving the possibility of coming persecuted by the Russian authorities, declared Minister of Foreign Affairs Gabrielius Landsbergis.
Many people oppose such restrictions. For example, Russian opposition politician Dmitry Gudkov so explained Present Time, why, in his opinion, visas should be issued to those fleeing mobilization: each visa is a minus one soldier in the war with Ukraine, and it is possible to deal with those who may be potentially dangerous for the EU countries later.
Former Lithuanian Foreign Minister Linas Linkevičius, in an interview with Current Time, told why Lithuania and other countries are afraid to let Russians in en masse and whether politicians really believe that by staying in Russia, those who disagree with the policy of the Russian authorities will be able to change something.
– Do you agree with Gudkov's position that the more Russians leave the country, the fewer soldiers will go to war?
– In general, all these protests look a little strange to me. Firstly, when there was a massacre in Bucha or murders in Mariupol, there were no signals of rejection on behalf of this state. Now, when there is already a personal danger, when the war has come to Russia – not only on TV, but all this is felt personally – then they already went out to protest. Those who have more money try to leave. So let's not argue now how many percent support this war or a special military operation, but they have not changed in any way.
So here it is necessary to look very carefully and individually. This flight from Russia, if viewed from Lithuania, we also do not want us to have a reinforced fifth column, which at some point will begin to actively work against our state. And now, when we see all these protests, the thought probably also comes to mind that those who can obstruct the regime, if they leave, then who will stay? Those who never interfere with anyone at all?
So the Russians need to somehow put things in order at home. Usually when there are wars and revolutions, these changes take place. Maybe this is a chance, there is another choice, or go where they are directed and multiply the ranks of the dead. The choice is for the Russians. So here you still need to figure it out at home, and not just in such an easy way to escape from this danger.
– The Estonian Foreign Minister said: "Refusal to perform civic duty in Russia is not a sufficient basis for granting asylum in another country." Of course, each country should and has the right to decide for itself who to let in and who not. But is this call for this war of conquest against Ukraine really understood in Estonia as a civic duty of Russians?
– I will not comment on what I do not know. I will say that we had a decision, as you probably know, the Baltic countries and Poland made a decision not to issue tourist visas. And there is a decision that each other case will be dealt with individually. There are some humanitarian reasons, there are problems of persecution – they will sort it out. So there is no such thing as red light. There is simply no green light for everyone en masse.
– If we talk about the threats that mobilization poses to the Baltic countries, Lithuania said yesterday that against the background of mobilization, rapid reaction forces were put on alert, what threat does Lithuania see for itself in mobilization now?
"There is no real threat here. Putting the reaction forces on alert is a routine activity that has nothing to do with general mobilization. In general, the situation here has not become more complicated on our border, but we are always ready for possible provocations. But the tension here has not yet increased, and we are very carefully watching what is happening near Lithuania.
– And how can you explain that Lithuania, against the background of Latvia and Estonia, takes a softer position regarding the issuance of visas to Russians?
– I would not say so categorically, which is more gentle. Actually, that was the first reaction. Our attitude is the same as it was before, because we have a lot of those who flee from Belarus. We are also watching them very carefully, many of them receive political asylum. But this does not happen automatically. So softer or not – it's up to you to judge. Maybe there is no such categorical attitude.
If you look at international conventions, if a person refuses to participate in aggression and because of this he is persecuted, then, of course, the issue of political protection of this person must be considered. So, of course, all norms of international law will be carefully observed here.
– Dmitry Gudkov is going to negotiate with European countries so that the borders are opened for Russians and visas are issued. Do you think this initiative of his will succeed?
"There are a lot of people who understand this. We also do not have such a ban, just all these applications will be considered. But if you look at it this way, if people go across the border en masse, then this will not happen, I do not think that we will come to this.
– If we talk about the development of this conflict, does the EU now have a vision that it is now possible to somehow agree with Putin?
— There were colleagues who thought it was possible. I think that based on my experience and what happened before, there are already fewer of them. In fact, Putin has reached a dead end on his own, he sees no way out, but, unfortunately, he is leading the country. So here again there is just an opportunity to somehow get down to business on our own. I think the outcome depends on what happens in Russia.
As for the Western countries and the European Union, then, of course, there can be no changes here. And the statement of the Minister of Foreign Affairs in New York immediately after these threats by Putin showed this. This is not always easy, because it is necessary to create consensus in the European Union, and, as you know, not everything is easy.
But anyway, I think that there will be no hesitation here, I hope that we will still continue to put pressure on Russia and continue to provide assistance to Ukraine as much as necessary: ​​financial, economic and, of course, military.