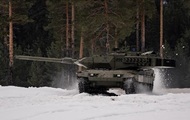 Leopard 2 A4 from Spain will arrive in Ukraine in the spring, and until then they will be used for military training.
Tanks Leopard 2, which Spain intends to send to Ukraine, will arrive in the spring. This was stated by the Minister of Defense of Spain Margarita Robles, reports RTVE.
According to Robles, these are Leopard 2 A4 tanks located at the base in Zaragoza, which are not currently in use, but did not indicate exactly how many tanks will be transferred.
"It's not just about sending tanks, but also about crew training and maintenance," Robles said during a visit to the Spanish military stationed in Latvia as part of NATO's deployment to the country.
"We will assess the necessary repairs. The Allied approach is that this will happen in the spring. Until then, the physical presence of Leopard tanks will not be needed, and we are going to use this time for training," Robles said.
She also added that Germany had sent a letter to Spain asking for cooperation in crew training.
Earlier, Spain confirmed its readiness to transfer Leopard 2 tanks to Ukraine after Germany agreed to send its own armored vehicles.
Ukraine will receive more than 320 Western tanks – ambassador

News from Perild.com in Telegram. Subscribe to our channel