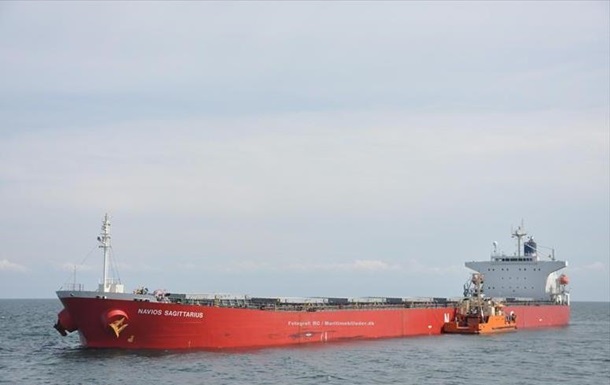 Фото: MarineTraffic
Ship Navios Sagittarius carries over 64,000 tons of wheat to Saudi Arabia
Now four dry cargo ships are heading to Ukrainian ports, which the day before passed through the sea humanitarian corridor.

From the ports of Ukraine on Friday left seven dry cargo ships with corn and wheat. This was announced by the Joint Coordinating Center (JCC) on Saturday, January 28.
"On January 27, seven ships left Ukrainian ports, they are carrying a total of 368,941 tons of grain and other food as part of the Black Sea Grain Initiative," the message says.
Two dry cargo ships Tutor (69,756 tons of corn) and Tycoon (35 thousand tons of corn and 27.5 thousand tons of wheat) headed for Israel. The Navios Sagittarius (64,175 tons of wheat) is heading to Saudi Arabia, while the Arcturus (59,770 tons of wheat) is heading to Kenya.
The ship Sword Lion will deliver 25.5 thousand tons of corn to Italy, dry cargo ship Dsm Star – 8,329 tons of corn and 10,734 tons of wheat to Spain. The Calypso will ship 68,177 tons of corn to China.
Now four dry cargo ships are heading to Ukrainian ports, which passed through the maritime humanitarian corridor on Friday.
The SKC reported that "80 applications for participation in the initiative were submitted."
"As of January 27, the total tonnage of grain and other agricultural products exported from three Ukrainian ports is 18,790,961 tons. In total, 1,364 ships have been allowed to move at the moment: 681 for arrival in Ukrainian ports and 683 for leaving them" , – summarized in the SCC.
It should be reminded that in January an average of two or three ships pass through the Bosporus along the grain corridor every day, which is half as much as it was in September-October.
Earlier, Minister of Agrarian Policy and Food Nikolai Solsky announced the cost of a day of idle ships in the Bosphorus. At the same time, queues in this strait often exceed more than 100 ships.

News from Perild.com in Telegram. Subscribe to our channel