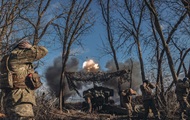 Russia may conduct several stages of offensive operations, culminating in the complete capture of the Donetsk and Lugansk regions. On Saturday, January 28, reports the Institute for the Study of War (ISW).
According to experts, these stages are likely to take from six to 12 months, but it is unlikely that the occupiers will be able to hold their positions.
As analysts write, Russian forces are trying to prevent Ukraine from regaining the initiative, possibly ahead of a planned decisive Russian offensive in the Donbas.
"Chief of the Russian General Staff Valery Gerasimov said that Russian forces have focused most of their efforts on the capture of the Donetsk region, which will likely entail the capture by Russian troops of key positions in the western part of the Lugansk region and the north-east of the Donetsk region in order to reach the administrative borders of the regions," analysts suggest.
They also point out that the Russians have resumed ground attacks in the area of ​​Vuhledar and are conducting minor attacks in the Zaporozhye region and around Donetsk.
"Russian troops are conducting a large-scale offensive operation on the Bakhmut Front as the main focus of their current efforts and a defensive operation on the Svatovo-Kremennaya line," the report says.
According to experts, the localized attacks on Vuhledar and settlements in the Donetsk and Zaporozhye regions are likely aimed at dispersing Ukrainian troops and creating conditions for a decisive Russian offensive in the western part of the Lugansk region.
At the same time, ISW notes that the Russian forces probably lack the combat power needed to carry out more than one major offensive operation.
"However, the Russian military leadership may again be planning an offensive operation based on erroneous assumptions about the capabilities of the Russian armed forces. Russia's military failures in the Kyiv, Kharkov and Kherson regions demonstrate that the Russian military leadership is overestimating the own capabilities of the Russian armed forces," analysts emphasize.
They also suggest that the efforts of the Russians can slow down the counteroffensive of the Ukrainians. However, Ukraine's defense strength will continue to grow as it will increasingly benefit from the promised Western tank deliveries.
"Thus, it is unlikely that the occupiers will achieve decisive operational success in their current and likely future offensive operations, although they are likely to achieve significant tactical and possibly even operational success," the document says.
Earlier it was reported that the enemy is advancing in four directions.
Russia's losses exceeded 125 thousand killed

News from Perild.com in Telegram. Subscribe to our channel