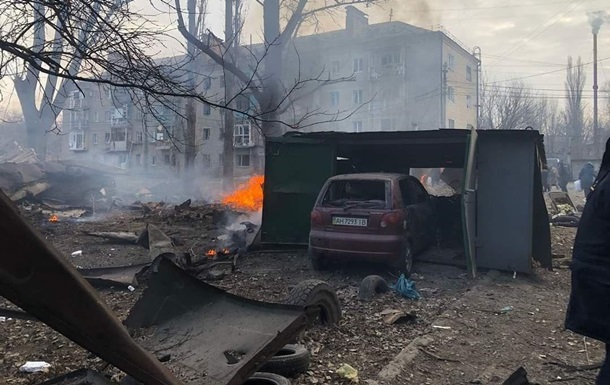 Photo: Pavel Kirilenko / Telergam
On Saturday morning, Russian aggressors launched a missile attack on the city of Konstantinovka
In Konstantinovka, Russian troops hit a residential area with an S-300 missile; The North Atlantic Alliance is ready for a direct confrontation with Russia. Perild.com highlights the main events of yesterday.

Russian aggressors launched a missile attack on the city of Konstantinovka
As a result of a missile attack on a residential sector in Konstantinovka, Donetsk region, three people were killed and 14 were injured. According to preliminary data, Russian troops hit the residential area with an S-300 missile. As a result of the shelling, four multi-storey buildings were damaged – windows were shattered, balconies and roofs of houses, a hotel, garages and civilian cars were destroyed and damaged.

NATO declares readiness for direct confrontation with Russia
The North Atlantic Alliance is ready for a direct confrontation with Russia, said Admiral, Chairman of the NATO Military Committee Rob Bauer. Bauer also believes that Russia's strategic goals extend beyond Ukraine as Moscow seeks to restore the size of the former Soviet Union. He recalled that during the Madrid summit last year, in response to Russian actions, the Alliance decided to create four additional multinational battle groups in Bulgaria, Hungary, Romania and Slovakia.

In the Poltava region, a passenger bus got into an accident
There was an accident involving a Mercedes-Benz minibus and a MAN truck standing in the same direction. As a result of the accident, the driver and one passenger of the minibus died on the spot, and one passenger died in the ambulance. According to law enforcement officers, eight other passengers, including two children, were injured in the accident.

Ukraine applied another package of sanctions against Russian aides
President Volodymyr Zelensky signed a decree on the implementation of the decision of the National Security and Defense Council to impose sanctions against legal entities and individuals used by Russia to transport military equipment and soldiers by rail. We are talking about 185 companies and individuals. Their assets in Ukraine are blocked, and the property will be used for our defense.

In Ukraine, called the number of aircraft it needs
Ukraine expects to receive 24 modern fighter jets from Western partners as part of the first such aid package. This was stated by the speaker of the Air Force of the Armed Forces of Ukraine, Colonel Yuriy Ignat. At the same time, American F-16 fighters are a priority for Ukraine. But French Rafale and Swedish Gripen aircraft are also being considered as options.

Patriarch Bartholomew called the war in Ukraine "devilish" and condemned Russian aggression
Ecumenical Patriarch Bartholomew met with Metropolitan Epiphany, members of the delegation and diplomats during their visit to Istanbul. The patriarch called the war in Ukraine "devilish" and condemned Russian aggression. He also noted that he was praying for Ukraine and its victory.

In Ukraine, the number of sown areas has decreased
At the moment, it is impossible to use 25% of the cultivated area in Ukraine due to hostilities or temporary occupation. This is the Deputy Minister of Agrarian Policy and Food Taras Vysotsky. According to him, the expected sown area of ​​all categories of farms in the controlled territory of Ukraine for the harvest of 2023 should be 21.8 million hectares, which is 6.8 million hectares less than in 2021 (28.6 million hectares).

Czech Republic elects new president
Ex-commander of the Czech General Staff, retired NATO General Petr Pavel defeated billionaire Andrei Babis in the second round of the Czech presidential election. President of Ukraine Volodymyr Zelensky congratulated the new President of the Czech Republic, Petr Pavel, on his convincing victory in the elections and expressed hope for continued cooperation. Pavel supports military assistance to Ukraine and even raised funds for this on his own initiative. He is considered a great friend of Ukraine.

News from Perild.com in Telegram. Subscribe to our channel