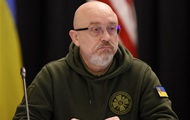 The head of the Defense Ministry, referring to the Ukrainian military command, called the situation in the east "difficult, but controllable."
At the same time, the minister announced a "wish list" for weapons that Ukraine needs. Among the desired: fighters, other combat aircraft and long-range missiles. At the same time, Reznikov stressed that they were needed not for strikes on the territory of Russia, but for the destruction of the trains and command posts of the invaders.
The head of the Defense Ministry added that he is looking forward to a new two weeks of negotiations with partners in fighter jets for Ukraine. He hopes for a positive decision, as it used to be with air defense systems and long-range artillery.
"For me, everything that is impossible today (will be) possible tomorrow," Reznikov said.
Recall that in the Donetsk region, active battles continue in the Bakhmut and Avdeevsky directions. In particular, the occupiers intensified their attacks near Ugledar.