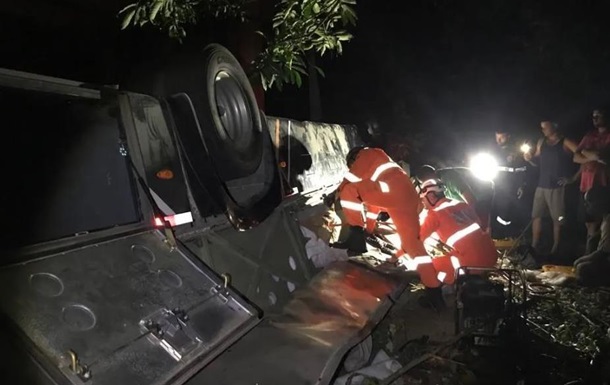 Photo: cnnbrasil.com.br
Football player bus falls off bridge in Brazil
The youth football team was returning from the tournament at night, but the driver lost control and the bus fell off a 10-meter bridge.
In Brazil, a bus carrying a local youth football team fell off a bridge. Four people died and 28 were injured, according to CNN Brasil.
It is noted that the fatal accident occurred at night in the Brazilian state of Minas Gerais. The bus in which the youth football team called Esporte Clube Vila Maria Helena was returning from the tournament fell off a 10-meter bridge.
It is reported that the driver lost control, causing the bus to fall off the bridge and topple over.
In addition to the driver, there were 28 football players aged 14-17, as well as four members of the coaching staff, inside.
As a result of the accident, four people died – one adult and three teenagers. Another 28 people were hospitalized with injuries of varying severity.
It is noted that the players of the amateur team who had an accident were champions of the tournament in the under-18 category and vice-champions in the under-16 category.

(embed)https://www.youtube.com/watch?v=M4zR5HNkvP8(/embed)
Recall that at the end of December in Spain, the bus fell into the river, killing people.

News from Perild.com in Telegram. Subscribe to our channel