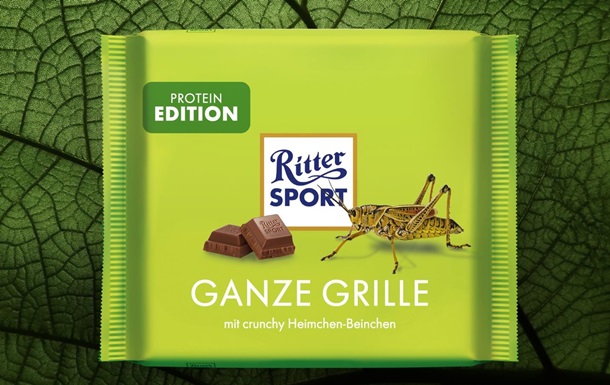 Photo: facebook.com/RitterSportDeutschland
New chocolate bar
The product will only be available digitally and will not contain any insects, the brand explained.
German popular chocolate maker Ritter Sport has announced that it will launch a new chocolate bar called Ganze Grille, which translates as a whole cricket and will contain "crunchy cricket legs". This is reported by Szeretlek Magyarorszag.
The brand published a photo of the packaging of a new product with a cricket. Fans of the brand criticized this decision.
As a result, Ritter Sport explained that the chocolate will be available only in digital form and there will be no insects in it.
The network suggests that the company took such a step to draw attention to the new vegan line.
In these chocolates, instead of regular milk, there will be almond and 100% organic cocoa. And the taste will be complemented by roasted peanuts and salted caramel.
Recall that earlier the Japanese branch of Google released chips with the taste of "smartphone". The presentation became part of an advertising campaign for the new line of Pixel 7 and 7 Pro gadgets. The food highlights the color options of this generation of smartphones.

Balenciaga presented a handbag in the form of a bag of chips

News from Perild.com in Telegram. Subscribe to our channel