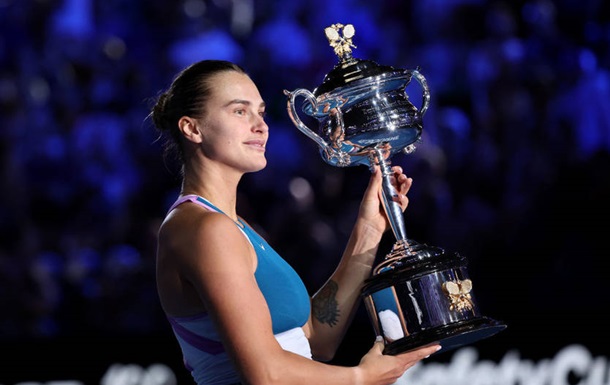 Photo: Getty Images
Arina Sobolenko with the trophy of the winner of the Australian Open-2023
The Tennis Federation of Ukraine again called on world sports functionaries to open their eyes.
Under no circumstances should an athlete from aggressor countries be returned to the arenas. Moreover, the sanctions against them should be tightened. So think in the Tennis Federation of Ukraine. As an example, they cited the situation with Arina Sobolenko.
Recall that the Belarusian tennis player won the Australian Open, which dictator Alexander Lukashenko did not miss the opportunity to take advantage of. He used the success of the athlete for his PR.
"We have repeatedly called for a ban on the performance of all Russian and Belarusian athletes without exception on all world arenas. It's not even about the athletes themselves, although many of them are active supporters of their totalitarian regimes and passionately support the bloody war against Ukraine, and some even formally serve in the armed forces.
The main point that we want to note is that the aggressor states use any achievements of their athletes to propagate and praise their own system and cannibalistic ideology.
The example of Arina Sobolenko, who won the Australian Open, is evidence of the validity of the above thesis. After the broadcast of the semi-final and final of the competition, which was pirated on the Belarusian national TV channel, which in itself is a violation of international law, self-proclaimed President Lukashenko boasts of the victory of the Belarusian tennis player and raises a glass to her success.
He is not at all worried that Sobolenko is playing under a neutral flag, as required by international tennis organizations. For him, as in principle for many others, she represents Belarus and glorifies it.
The Australian Open showed other examples of the fact that no one separates athletes without flags from their countries. Orgy with Russian flags and photographs against the background of portraits of war criminal Putin is another argument to change erroneous decisions…
These events clearly demonstrate that sport is not "out of politics". On the contrary, it personifies one of the political directions. It is used by the regimes for their propaganda purposes.
You can have different attitudes towards specific athletes from certain states. But how can one perceive the aggressor countries flooding Ukraine with blood? They must be punished today.
The ban on the performance of athletes in international arenas is one of the most effective means of isolating Russia and Belarus. This tool must be applied as soon as possible instead of providing the aggressors with platforms for their self-promotion.
We call for the isolation of Russian and Belarusian athletes within the borders of their states immediately," the official statement says.
Recall that in the final of the Australian Open, the Belarusian tennis player Arina Sobolenko, playing in a neutral status, defeated ex-Russian Elena Rybakina representing Kazakhstan.
Earlier, the IOC expressed confidence that the neutral status of athletes has proven itself in tournaments.

News from Perild.com in Telegram. Subscribe to our channel