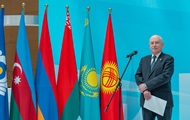 The Ukrainian state is still legally part of the Commonwealth, says Sergei Lebedev.
Ukraine withdrew from 20% of the agreements and arrangements of the Commonwealth of Independent States (CIS). However, de jure it remains a part of the CIS. This was stated to journalists by the CIS Secretary General Sergei Lebedev, the pro-government Belarusian news agency BELTA reports on Tuesday, January 31.
The media noted that the meeting of the Council of Permanent Plenipotentiary Representatives of the CIS member states to the statutory and other bodies of the Commonwealth will be held on Tuesday at the CIS Executive Committee in the Belarusian capital of Minsk.
During the meeting, it is planned to present the Concept of the Chairmanship of Kyrgyzstan in the Commonwealth of Independent States in 2023 and an action plan for its implementation.
Representatives of the countries will also discuss the draft agenda of the next meeting of the Council of Foreign Ministers of the CIS, which will be held on April 14 in the capital of Uzbekistan, Tashkent.
In addition, they will approve the council's work plan for 2023.
Recall, the Moldovan Foreign Ministry said that Chisinau analyzes the expediency of staying in the CIS.

Ukraine denounces free trade agreement with the CIS

News from Perild.com in Telegram. Subscribe to our channel