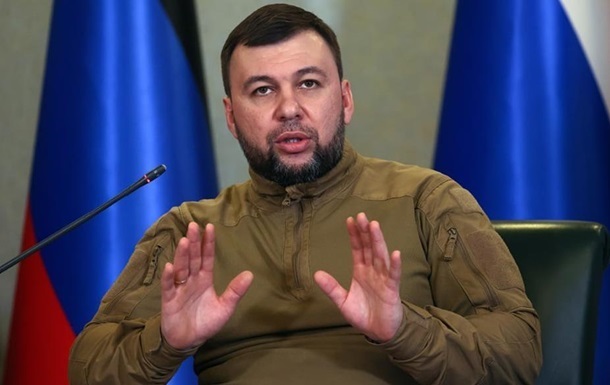 Photo: Social networks
Donetsk Gauleiter Denis Pushilin
Western analysts believe that the latest statements by the invaders indicate an erroneous assessment of their own forces.
The occupiers overestimate their capabilities in terms of advancement in the Donetsk region, as well as on the battlefield. This is stated in the report of the Institute for the Study of War (ISW).
Analysts noted that the so-called "head of the DPR" Denis Pushilin has recently made a large number of statements about the advancement of Russian forces in the Donbass.
They believe he has lost touch with reality as he contemplates capturing Bakhmut, which will open the way to Kramatorsk and Slavyansk, 40 kilometers to the northwest.
"Founder of Wagner PMC Yevgeny Prigozhin previously claimed that the average speed of the Russian advance around Bakhmut was about 100 meters per day, and it took Russian troops 8 months to move from the occupied Popasna Luhansk region and Svetlodarsk to their current positions in the Bakhmut area (a distance of 25 km and 22 km respectively)," ISW experts explained.
Pushilin also hopes to capture Ugledar, which will allow Russian troops to launch offensive operations on Kurakhovo, Marinka and Pokrovsk, despite the fact that Russian troops have not been able to capture Marinka since March 17, 2022, when the Russian Ministry of Defense falsely reported that they had captured the settlement.
He claims that Russia will capture Avdiivka, but does not explain how the occupiers will break through the almost nine-year-old Ukrainian fortifications around the village.
"Pushilin's expectations regarding the hypothetical capture of Bakhmut further demonstrate that the Russians continue to face problems in accurately assessing the relationship between time and space, given their military potential," the ISW report summarizes.
Recall that earlier Pushilin commented on Putin's decision on the "Christmas truce" and said that a truce "is out of the question."

The enemy lost 500 people near Bakhmut in a day – APU

News from Perild.com in Telegram. Subscribe to our channel