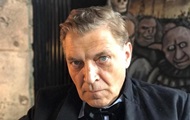 The Moscow Basmanny Court has sentenced journalist Alexander Nevzorov for "disinformation" about the Russian occupiers.
The Basmanny Court of Moscow on Wednesday, February 1, sentenced journalist Alexander Nevzorov in absentia to eight years in prison. In particular, he was found guilty of "spreading disinformation about the Russian army." This is reported by the propaganda news agency TASS.
The court also banned the journalist from administering Internet resources for four years after serving his sentence.
Nevzorov himself did not take part in the trial. The journalist's lawyer, Nadezhda Fedoseyeva, said that the defense would appeal against the verdict in absentia, since "there is no corpus delicti in the Nevzorov case."
The prosecutor asked to sentence Nevzorov to nine years in prison in absentia. The defense insisted on an acquittal. The article incriminated to the journalist provides for punishment in the form of a fine of up to five million rubles or up to 10 years in prison.
Russian investigators claim that Nevzorov on March 9 on Instagram and on March 19 on his YouTube channel published "false information" about the deliberate shelling of a maternity hospital in Mariupol by the Russian Armed Forces. In Russia, the facts of the rape of women by Russian soldiers, as well as the use of civilians as a "human shield" are called "false".
The Ministry of Internal Affairs put Nevzorov on the wanted list. His wife claims that he left for Israel.
According to the materials of the case announced earlier in court, the journalist has a residence permit in Italy.
Recall that Alexander Nevzorov and his wife were granted citizenship of Ukraine.

News from Perild.com in Telegram. Subscribe to our channel