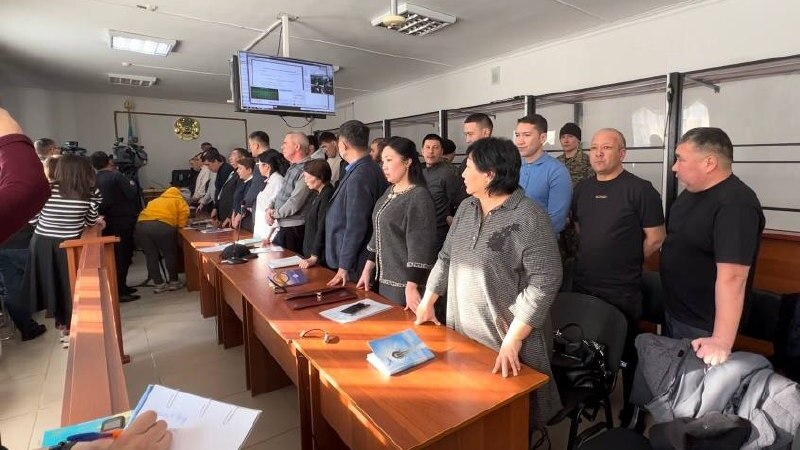 A court in Aktobe has announced the verdict in the case of the January protests, which involved 18 people, the Kazakh service of Radio Liberty reports.
The longest term was given to 31-year-old Nursultan Isaev. He, in addition to participating in "mass riots", was accused of using violence against a government official. According to investigators, on January 5, 2022, he hit the police with a car. Relatives say that Isaev tried to drive his car away from the square, but lost sight of the people in front of him because he tilted his head when a bullet hit the car: the police began to use tear gas and fire rubber bullets at the demonstrators.
Last summer, Isaev went on a hunger strike, alleging violations by the investigation, including torture. The court sentenced him to 15 years in prison.
The accused Darkhan Kami received four years in prison.
Eight people – Erkebulan Kuttybaev, Rustem Akhmetov, Berik Kuspanov, Nurken Omirali, Kairat Baimuratov, Zhadiger Iskakov, Amirbek Dauken, Arnold Saduakasov – were sentenced to nine months probation.
Six people – Kuat Shamuratov, Nurbek Mukhit, Bekzhan Amangosov, Darkhan Abiyev, Abylaikhan Bekeev, Zhanna Esmyrzaeva – were released in the courtroom, as the time spent in custody and under house arrest was included in the sentence.
Aslanbek Omarov and Yernur Azhniyazov were acquitted by the court.
In Aktobe, criminal cases were opened against 21 people after the January protests. The defendants were charged, among other things, with "participation in mass riots", "use of violence against a representative of the authorities" and "theft or extortion of weapons." The victims in the case were dozens of people, mostly police officers. Last July, a court in Aktobe restricted the freedom of three people accused of "attempting to seize the airport."
Mass protests in Kazakhstan began on January 4, 2022 with rallies against rising gas prices, then they turned into mass actions demanding the resignation of the authorities and the demolition of monuments to Nazarbayev, and ended on January 7, 2022 with riots in Almaty, Kostanay and other large cities, as well as the introduction of CSTO troops and the shutdown of the Internet in the country. According to official figures, 238 people died during the January protests and riots, including six as a result of torture after detention. Several thousand people were detained, hundreds reported being tortured, but most of the criminal cases initiated on complaints of ill-treatment were dropped.
In Aktobe, two deaths are known as a result of the protests. Ruslanbek Zhubanazarov, 30, was shot dead on January 7, Faizulla Nurgeldin disappeared on January 5. Relatives found him after 23:00 in the emergency hospital with a head wound. He underwent surgery and was then discharged. He died at the beginning of March last year.