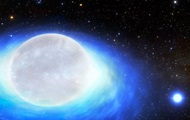 The new study will help better understand the origins of some of the heaviest elements in our universe.
Astronomers using a telescope at the Inter-American Observatory of Cerro Tololo, Chile, have discovered for the first time a binary star system that, when it explodes, produces gold, platinum and uranium. Space writes about it.
It is noted that this is a very rare phenomenon, since when stars explode, their entire outer shell flies into space, and the core shrinks to a minimum size, forming a neutron star.
In rare cases, the explosion is not too strong. This is what happened to the neutron star SGR 0755-2933. It, along with the ordinary star CPD-29 2176, is located at a distance of 11,400 light-years from Earth.
"The fact is that the star SGR 0755-2933 turned into a neutron star as a result of a "silent" supernova explosion about 1 million years ago, but after another 1 million years its companion will also turn into a neutron star in the same way. After which both stars will approach each other and they will collide. As a result, there will be a powerful explosion – a kilonova," say astronomers.
According to them, the explosion of the kilonova leads to the appearance of platinum, uranium and gold in space. These elements fly away at great speed through the galaxy and end up in the interstellar medium. And then they hit the asteroids.
Earlier, NASA's Juno spacecraft sent back breathtaking new images of the gas giant Jupiter. They, most likely, can be the last, as technical problems have been identified in the device.

The Webb telescope showed thousands of galaxies in one photo

News from Perild.com in Telegram. Subscribe to our channel