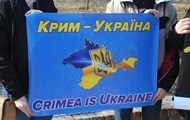 The US Department of Defense expressed doubt that Kyiv has the ability to oust enemy forces from the peninsula in the near future.
The possibility of Ukrainian forces liberating Crimea from the Russians in the near future seems unlikely. About Thursday, February 2, said the publication Politico, referring to the words of representatives of the Department of Defense of the United States of America.
Media reports that, according to anonymous sources, four Pentagon officials held a briefing for members of the Committee on Armed Services of the House of Representatives.
Journalists note that it is still unclear what exactly this assessment is based on.
But the clear message, delivered by three people with direct knowledge of Thursday's briefing, was that the Pentagon does not believe Ukraine has – or will soon have – the ability to push Russian troops out of the peninsula that Moscow seized nearly a decade ago. Fourth The person said the briefing was more ambiguous, but the bottom line is that Ukraine's victory in the offensive to retake illegally annexed territory is not guaranteed.
The report said that among the participants in the briefing were Deputy Assistant Secretary of Defense for Ukraine, Russia and Eurasia Laura Cooper and Director of Joint Staff Operations Lieutenant General Douglas Sims.
Pentagon Speaker Sabrina Singh, in turn, declined to comment on the content of the closed briefing.
As previously reported, the Crimean partisans announced the destruction of two officers of the Russian National Guard in Crimea.

News from Perild.com in Telegram. Subscribe to our channel