The Russian military man, who fought in Ukraine and fled from the Russian Federation, gave an interview to Western journalists.
Konstantin Yefremov is the first Russian officer who agreed to an open interview for the Western press. With the help of photographs and military documents provided by him, the BBC publication confirms that Yefremov was indeed in Ukraine at the beginning of the war, in particular in the city of Melitopol, Zaporozhye region.
The man said that he tried many times to quit the Russian army of his own free will, but in the end, because of his refusal to fight in Ukraine, he was fired. Now he has fled Russia.
Efremov was a senior lieutenant and commanded a demining platoon of the 42nd motorized rifle division stationed in Chechnya.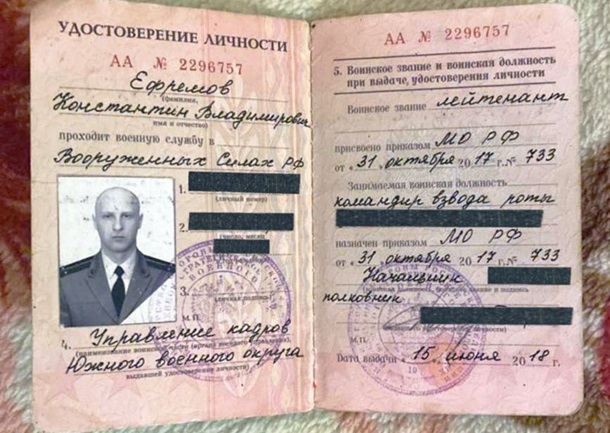 bbc.com
"In this position, I left for exercises, at that time we only knew that these were exercises. On February 10, 2022, I arrived in Crimea at the training ground. Nobody believed that there would be a war. Everyone believed that there would be exercises. Even senior officers I'm sure they didn't know," he said.

How did the war start
Efremov specified that he was in Dzhankoy.
"Early on the morning of February 24, they heard the rumble of artillery. All doubts disappeared: the war had begun," he added.
Konstantin described how the Russian military painted the letter Z on equipment with white paint and taped the leg and arm as identification marks.
According to the Air Force, Efremov, during an interview, convinced journalists of his anti-war position. On February 24, he allegedly realized that he did not want to be a participant in the war and ended up with the chief of staff in the Crimea.
"The chief of staff scolded me, called me a traitor, a traitor, a coward. He said that he would shoot me in the leg. I listened to him, turned around and left. I left my weapon to my immediate commander, got into a taxi and left. I decided … to arrive at the location of the unit, which is in Grozny, write a letter of resignation and go through the dismissal procedure.But before I could go far, my comrades, colleagues called me, they said that the colonel had lined up all the personnel and announced to them about my act, promised to put me in prison from seven to 10 years for desertion and said he had given my details to the police," the Russian officer said.
Then, according to him, he returned to Dzhankoy and wrote a letter of resignation of his own free will. But the commanders refused to accept him.
"For three years before this war, I was engaged in demining the Chechen land, which survived two wars. I loved my work, I believed that I was useful," he added.

They stole everything
Despite the protest, according to Efremov, he was put in temporary command of a rifle platoon in a consolidated battalion. On February 27, he received an order to advance towards mainland Ukraine.
"We boarded cars and moved in a column towards the border, crossed it and, without stopping, moved all the way to Melitopol," he said.
Efremov spent the next 10 days at a military airfield, which was captured by Russian troops.
"There I saw the first cases of looting. Soldiers and officers dragged everything in a row. I saw how they climbed all the planes, utility rooms. One soldier took out a lawn mower from somewhere and said in a proud voice: "I'll take it home, we'll mow the grass near the barracks." They dragged all the unnecessary trash, buckets, axes, bicycles, stuffed it all into their Kamaz trucks," Konstantin added.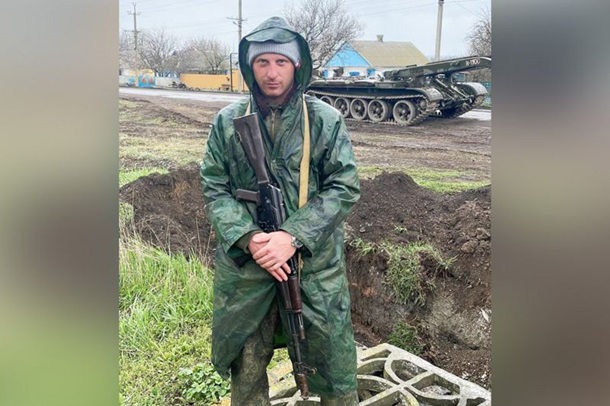 bbc.com
Then, for about a month and a half, he was assigned to guard a Russian artillery unit in the Zaporozhye region.
"We slept on the street all this time. We were starving, we hunted hares, pheasants. We saved water. Well, we got into such difficult conditions," recalls the former military man.

Interrogations of the Ukrainian military
In April, Konstantin's unit was assigned to guard the "rear headquarters" in the city of Bilmak, Zaporozhye region. There, according to him, they were actively engaged in the interrogation of captured Ukrainians.
"One day, three Ukrainian prisoners of war were brought there. One of them admitted that he was a sniper. At these words, the colonel's eyes lit up. He beat him, lowered his pants, asked if you were married? The colonel says, bring a mop, now we will make a girl out of you and send a video to your wife, "Konstantin said.
"Once the colonel asked a prisoner, tell me the nationalists, who do you know in your regiment, platoon. And the guy does not understand the question, we, says the marines of the Armed Forces of Ukraine. For this, the colonel beat him, knocked out several teeth," recalled the former Russian soldier .
According to him, the Russian colonel put a gun to the head of a guy who had a bandage over his eyes, and said: "I'll count to three now, and then I'll shoot you in the head."
"I thought, then I shot near the head. To the left or right of the head. It will shoot near one ear, then the other. He stunned him, and he did not hear what questions the colonel was asking. And he began to scream. I say, Comrade Colonel, he He doesn't hear you, you stunned him. He tells me: he is deceiving. These interrogations, tortures lasted a week. Every day or night, sometimes twice a day, they brought him," he said.
The prisoners were kept in a garage and were given only water and bread.

Departure from Russia


A few weeks later, Konstantin returned to his demining company in the Crimea. But, as it turned out, not for long.
"Six people and I made a decision (to retire from the army – ed.). We left directly from the forest where we were deployed to Dzhankoy. And then on our own. A friend from Vladikavkaz came for me, he took me. On May 27, I arrived in his military unit in Grozny, in Khankala, and wrote a report … They began to convince me. The officers, who had not been in Ukraine for a single day, told me that I was a coward and a traitor. They didn't let me quit of my own free will, they let me down for dismissal position," he said.
BBC journalists reported that Yefremov showed them letters from the military leadership, in one of them he is accused of "evading military service duties" and failing to comply with an order to return to Ukraine. This is described as "committing a gross disciplinary offence." Another document refers to "early dismissal from military service … due to non-fulfillment of the terms of the contract."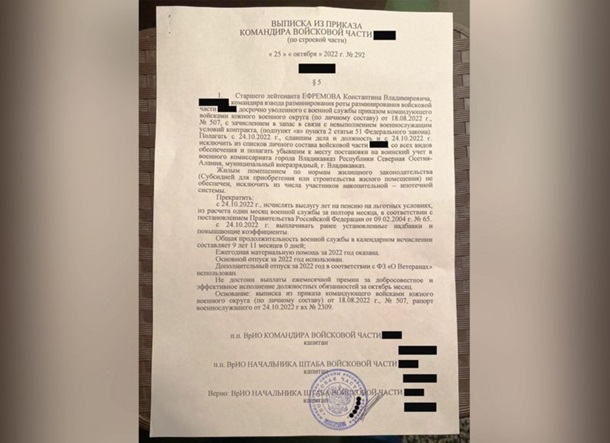 bbc.com
After the "partial mobilization" announced in September 2022, Efremov realized that they would not leave him alone.
"Employees of the military registration and enlistment office specially came, were on duty, guarded me at my house. I rented an apartment and hid in a rented apartment. I hid from my neighbors because the witch hunt began, their husband, son, brother the young man walks back and forth. I knew cases when the guys were hiding, and the neighbors called the police to pick them up. I didn't want to hide like a hunted dog," he said.
Konstantin later contacted the human rights group Gulagu.net, which helped him leave Russia.

News from Perild.com in Telegram. Subscribe to our channel