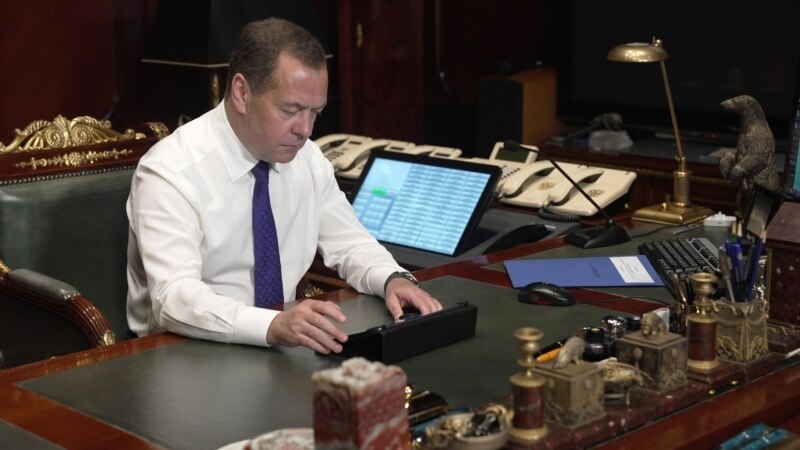 Deputy Chairman of the Russian Security Council Dmitry Medvedev once again indirectly threatened Ukraine with a nuclear strike. Answering questions from journalist Nadana Friedrichson, Medvedev, in particular, said that if Ukraine strikes at the annexed Crimea or "deep into Russia", "Russia's response can be anything."
"We do not set ourselves any restrictions and, depending on the nature of the threats, we are ready to use all types of weapons. In accordance with our doctrinal documents, including the Fundamentals of Nuclear Deterrence," Medvedev's response, which Friedrichson published on her Telegram channel, says. The former president of Russia also expressed the opinion that possible strikes on Russian facilities in Crimea would lead not to the beginning of negotiations, but to "retaliation strikes": "All Ukraine remaining under the rule of Kyiv will burn."
Mykhailo Podolyak, adviser to the Office of the President of Ukraine, tweeted that Ukraine, in accordance with international law, can liberate its territories, including Crimea, "using any tools." "Therefore, the threats of Russian officials about "retaliation strikes" are only a fixation of the intention to commit massacres and an attempt to scare in the traditional style of the Russian Federation. Always ignore Medvedev," Podolyak wrote.
On Friday, the United States officially announced that, as part of a new aid package from the United States, Kyiv will for the first time receive precision-guided GLSDB rocket-powered bombs with a range of up to 150 kilometers. Previously, the United States sent missiles to Ukraine only with a range of up to 80 kilometers. The new weapon will theoretically allow the armed forces of Ukraine to hit targets in the north of the Crimean peninsula. Official Kyiv declares that it will not strike at the internationally recognized territory of Russia. This restriction does not apply to Crimea.
Since the beginning of the war in Ukraine, Medvedev has repeatedly said that Russia could use nuclear weapons, threatening not only Kyiv, but also Western countries. He justified this by saying that a possible offensive by the Ukrainian army would allegedly jeopardize the territorial integrity and very existence of Russia. Such a threat, in turn, in the Russian nuclear doctrine is one of the reasons for the use of nuclear weapons.
On February 2, Russian President Vladimir Putin said that if the supply of armored vehicles to Ukraine by Western countries creates a threat to Russia, Moscow will take retaliatory measures, "and the use of armored vehicles will not end."
Kirill Budanov, head of the Main Intelligence Directorate of the Ukrainian Defense Ministry, believes that Russia will not use nuclear weapons even if Ukrainian troops continue their offensive and enter the annexed Crimea. Budanov said this in an interview with The Washington Post. According to him, Ukraine will do everything to restore control over Crimea by the summer of this year.