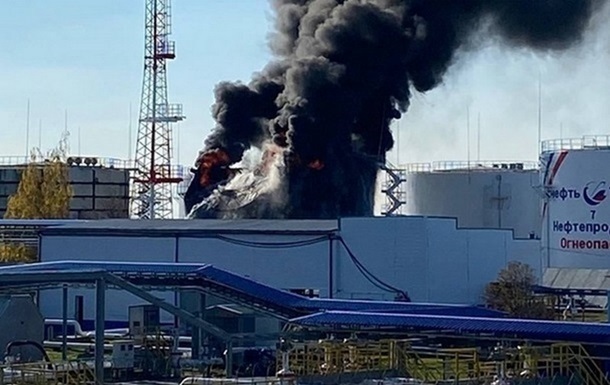 Photo: Russian social networks
Fire in the Belgorod region at one of the enterprises
Ukrainian fighters carry out work not only on the territory of the aggressor country, but also in the temporarily occupied regions.
Secret battalion Brotherhood is fighting the occupying country outside the front of the war, in particular, in the occupied territories of Ukraine, as well as in Russia. This is reported by The Guardian, which spoke with three members of this battalion.
The media notes that the battalion's work ranges from kidnapping high-ranking Kremlin officials to destroying key military infrastructure and shooting down enemy aircraft in Russia.
"It's very easy for us to cross the Russian border," one of the battalion members said.
The peculiarity of the battalion is that it operates independently of the Armed Forces of Ukraine.
However, work Fraternities should remain secret and independent primarily because of the "nervousness" of the West at the thought that Ukraine could strike at Russian territory. The latter statement can be confirmed by the debate over the supply of Leopard 2 tanks by Germany and the refusal of the United States and other countries to supply F16 fighters.
"It turns out that the Russians can enter the territory of Ukraine, but the Ukrainians cannot enter Russia," another member of the formation noted.
One of the last operations of the battalion was simple, its participants noted.
"Our group had to bring a certain amount of explosives to the territory of Russia and leave them in a certain place. I don't know for what and to whom these explosives were intended. But I know for sure that some people in Russia are ready to help the Ukrainians," the fighter said.

Brotherhood also carried out an operation in the Belgorod region, where several ammunition depots exploded a month ago, notes The Guardian.
The members of the group also said that they were given the task of "capturing or killing one of the high-ranking officers of the FSB", the Russian special services.
However, the Russian officer's car never arrived, so the mission had to be postponed. They needed to get out of the ambush, but they were faced with the problem of breaking into Ukraine, past the watching Russian troops gathered at the border.
"We met Russian border guards. We were four by four. We killed three Russians and slightly wounded one. We captured him, took him to the territory of Ukraine and handed him over to the Ukrainian military," a member of the group said.
The Brotherhood also noted that their operations are actually twice as safe as those conducted by the Ukrainian Armed Forces.
"It seems that this is a very dangerous job, but we are preparing for it very seriously," the fighters said.
As we have already reported, the partisans destroyed a group of invaders in Kirillovka.
In addition, near the temporarily occupied city of Shchastia, Luhansk region, a self-made explosive device destroyed the railway line between the city of Luhansk and the village of Lugansk. Lantratovka.

News from Perild.com in Telegram. Subscribe to our channel