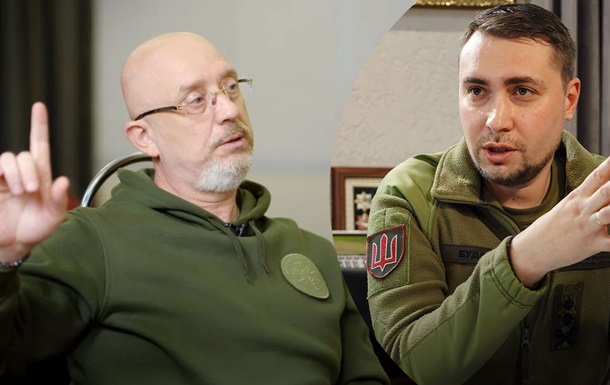 Photo: Collage 24 channels
Alexey Reznikov and Kirill Budanov
Sources in the OP and the Servant of the People said that Reznikov himself could be involved in work on an international tribunal.
The Verkhovna Rada should next week at one of its meetings consider the proposal of President Volodymyr Zelensky on the dismissal of Oleksiy Reznikov from the post of Minister of Defense. Instead, the head of Ukraine will propose to the parliament to appoint the head of the Main Directorate of Intelligence of the Ministry of Defense Kirill Budanov. This was announced on Sunday, February 5, by LIGA.net, citing four interlocutors in the Office of the President and the Servant of the People faction.
Sources said that "Reznikov is not about management." They also added that "he's a lawyer, he's about visionary." In addition, the interlocutors call Budanov "a very strong manager" who knows how to choose "powerful people" for the team.
Due to the fact that an aggravation is expected in the near future in the Donbass, Zelensky wants the military to be the Minister of Defense.
"We know about NATO standards (according to which the minister of defense must be a civilian – ed.). But we have a war. We will return the civilian after the war," the source said.
They also added that Reznikov's future is in doubt, but he must remain in the team. In particular, the possibility of appointing him as Minister of Justice was considered, but Zelensky has no particular complaints about the current Minister, Denis Malyuska.
In addition, Reznikov may replace Pavel Ryabikin as Minister for Strategic Industries. However, there may not be enough votes in parliament for this rotation, including within the mono-majority.
"These scandals (around the Ministry of Defense – ed.) have worked well. Our faction may refuse to keep it and vote. However, our process of creating an international tribunal (to hold Russian leaders accountable for crimes of aggression against Ukraine – ed.) is lame."
Reznikov is inclined to be involved in the work on the tribunal. He hinted at this at a press conference on February 5, commenting on rumors about his possible resignation.
With the replacement of Budanov in the GUR, there should be no problems, the interlocutors assure.
In addition, next week the Rada should appoint Vasily Malyuk as head of the Security Service of Ukraine, and Igor Klymenko as interior minister. Now they have the prefix "acting".
The publication turned to the press service of the OP and the GUR for a comment, but they declined to comment. As early as February 1, the president's press secretary, Sergei Nikiforov, replied that "as long as there is no signature under the relevant documents, no decision has been made."
As already reported, according to some media reports, Sergei Gaidai may soon be dismissed from the post of head of the Lugansk regional military administration.

Gaidai reacted to his "resignation"

News from Perild.com in Telegram. Subscribe to our channel