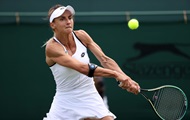 The Ukrainian failed to win the cup.
The prestigious WTA 250 tournament ended in Hua Hin (Thailand). In the finals of the competition, Ukrainian Lesya Tsurenko and Chinese representative Zhu Lin met.
The winner of the decisive confrontation was the Chinese woman, who got the victory in two sets.
Read also: Yastremskaya won the semi-finals of the qualification of the tournament in Abu Dhabi
It is noteworthy that Tsurenko and Zhu Lin lost 14 games in two sets for two.
Thailand, women
Final
Lesya Tsurenko (Ukraine) – Zhu Lin (China) – 4:6, 4:6
The match lasted 1 hour 46 minutes. During this time, the Ukrainian made three double faults and converted six break points out of 14.
On account of Zhu Lin one ace, one double fault and won eight break points out of nine.
Earlier it was reported that Ukraine won a victory over Lebanon at the Davis Cup.