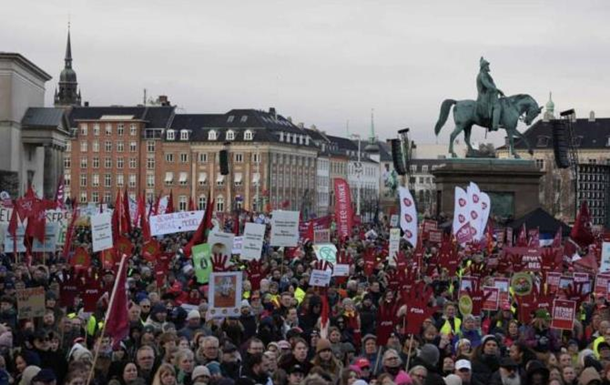 Photo: Emil Helms, Ritzau Skanpix
Tens of thousands of Danes protested after the cancellation of the red day in the calendar
The Danish government has decided to remove one day off from the calendar in order to increase productivity in the country.
Thousands of people in Denmark took to the streets to protest because of the government's desire to cancel the public holiday and make it a working day. On Sunday, February 5, according to Reuters.
It is noted that in this way the Danish authorities plan to increase budget revenues and allocate additional funds to increase the country's defense capability.
The agency writes that the demonstration was organized by the largest trade unions in the country, in particular, opposed to the abolition of the Day of Great Prayer – a Christian holiday that falls on the fourth Friday after Easter and dates back to 1686.
The unions that organized the protest estimated that at least 50,000 people took part, making it the largest demonstration in Denmark in more than a decade.

Today, thousands of angry Danes took to the streets of Copenhagen. Protesters are outraged by the govt's decision to eliminate a holiday in order to finance a defense budget increase. Take a look:pic.twitter.com/GvT1c79y2T


— Steve Hanke (@steve_hanke) February 5, 2023
Recall that teachers, drivers, border guards, as well as employees of airports and seaports protested in London. In total, about half a million people took to the streets of the capital of Britain.
In France, mass protests and strikes began against the government's planned pension reform and a two-year increase in the retirement age.

News from Perild.com in Telegram. Subscribe to our channel