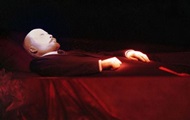 A resident of the city was detained by the local police, just at the moment when he tried to enter the Mausoleum.
A 42-year-old man tried to steal the embalmed remains of Vladimir Lenin from the Mausoleum in Moscow. The incident took place on the night of February 6th. This is reported by the local propaganda publication MK.RU.
The report says that the security forces detained the man when he tried to enter the Mausoleum.
"A 42-year-old Muscovite came to Red Square at night and tried to open the doors of the Mausoleum," the Russian police said.
The security forces quickly detained the citizen. During interrogation, the man confessed that he wanted to steal Lenin's body.
Russian media added that the man was diagnosed with a mental disorder due to intoxication.
As previously reported, a delegation of Irish fishermen will meet with the Russian ambassador in Dublin following their promise to interfere with Russian naval exercises off the southwest coast of Ireland.

In the Russian Federation, a 12-year-old schoolboy received a summons from the military registration and enlistment office – social networks

News from Perild.com in Telegram. Subscribe to our channel