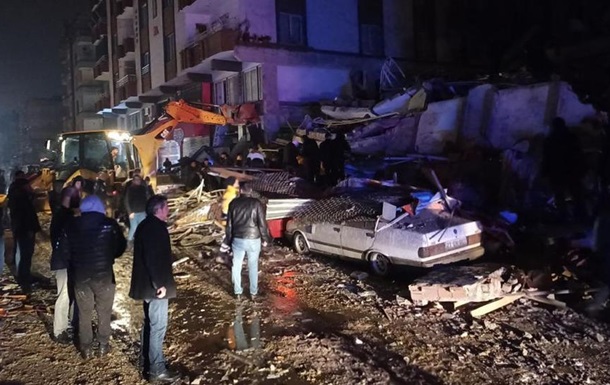 Photo: TRTWorld
Earthquake destroys homes in Turkey
The tremors were so strong that they were felt even in the capital of Lebanon, Beirut, and in Syrian Damascus and Latakia.
An earthquake of magnitude 7.4 occurred in the Turkish city of Pazardzhik in the province of Kahramanmarash. This was announced on Monday, February 6, by the Disaster and Emergency Management Authority (AFAD).

Turkey has experienced a massive earthquake. pic.twitter.com/9PNREnt8uX


— Nerdy 🅰🅳🅳🅸🅲🆃 (@Nerdy_Addict) February 6, 2023


According to the agency, the earthquake occurred at 4.17 at a depth of 7 km.
There was an earthquake in Gaziantep, it was extremely violent, everyone went to the streets pic.twitter.com/bvneY3Fify

— Müslüm Karaoğlan (@Muslimkrg) February 6, 2023


The tremors were felt in many major cities in Turkey, including Ankara, Gaziantep, Nevsehir, Kayseri, Adana and Hatay, writes CNN Turk.
The governor of Osmaniye province reported the death of five people and the collapse of 34 buildings.
A 17-storey building collapsed in the Turkish city of Adana. In the Turkish city of Sanliurfa, 16 houses collapsed as a result of the earthquake, people remain under the rubble, the mayor said.
The first image of the 7.8 earthquake came from Gaziantep Binevler region.
It is stated that there were 10 people in a building collapsed. pic.twitter.com/KYB8flTW7W

— Yunus BÜLBÜL (@yunusbulbul1) February 6, 2023
Turkish President Recep Tayyip Erdogan expressed condolences to the affected residents of the country in connection with the powerful earthquake that occurred.
"I convey my sympathy to all our citizens affected by the earthquake that occurred in Kahramanmarash and was felt in many parts of our country. All relevant units are on alert under the coordination of AFAD," he wrote.
A third-level alert has been declared in the country, Turkish Interior Minister Suleiman Soylu said.

News from Perild.com in Telegram. Subscribe to our channel