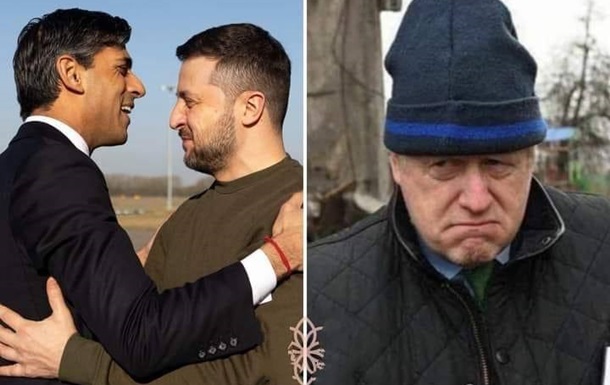 Photo: social networks
Meme on Zelensky's trip to London
Against the background of the meeting between Vladimir Zelensky and Rishi Sunak, users created collages with Boris Johnson.
President Volodymyr Zelensky left Ukraine for the second time since the beginning of the war. Today the head of our state visited Great Britain. At Stansted airport, Zelensky was emotionally met by British Prime Minister Rishi Sunak.
Their warm welcome stirred up the network with a wave of reactions and memes. Users remembered the "great friend of Ukraine" Boris Johnson and admitted that he "may be jealous of Zelensky."
Ukrainians did not forget to note the diplomatic achievements of Zelensky: Britain promised to transfer fighter jets to Ukraine to protect the country from Russian aggression.
I don't know how they are going to evaluate which fighter jets can be transferred to Ukraine, because it is absolutely obvious that all

— Alina Glazova 🇺🇦 (@glazalinkaa) February 8, 2023
Zelensky in Britain: "I came to hand over the helmet to you and return to Kyiv on a fighter jet. And as you can see, I have already handed over the helmet." pic.twitter.com/9i8KtodoYF

— I write code on a piece of paper (@drukarniaua) February 8, 2023
Two questions from the British media, which mostly came to him:
1) "Mr. Zelensky, do you want British fighters?"
2) "Do you miss Boris?"
😄😄😄

— Leon Grishin (@GrisinLeon) February 8, 2023
Zelensky's speech in short: "I came to Britain to drink tea and take your planes, as you know, I already drank tea"

— Nitso Potvorno (@potvorno) February 8, 2023
Users also recalled that while our leader is being met in civilized states, Russian Foreign Minister Sergei Lavrov was awarded a glass necklace in Africa.
We must pay tribute to Lavrov and the Foreign Ministry, there were also new bridles in the form of orders attached to the beads. And the wreaths are amazing. And you're talking about some London.
Tell me, will they give Zelensky such beauty in London? pic.twitter.com/amTUXHXmtF

— Death to the occupiers (@vpiFv287kaFEDsT) February 8, 2023

News from Perild.com in Telegram. Subscribe to our channel