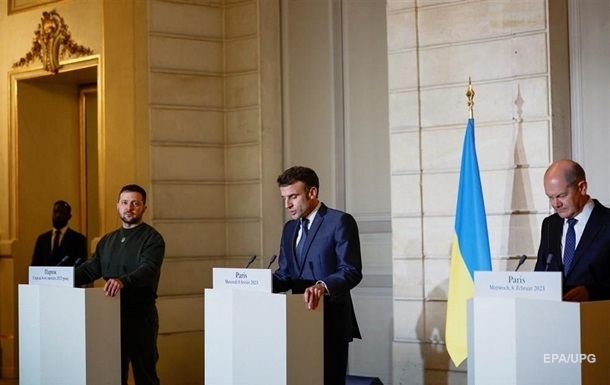 Zelensky recalled that this requires long-range aircraft and heavy weapons.
The war that Russia has unleashed against Ukraine concerns the future of all of Europe. The crime of aggression must not be tolerated under any circumstances. This was announced on Wednesday evening, February 8, by French President Emmanuel Macron during a joint press conference with President Volodymyr Zelensky and German Chancellor Olaf Scholz, Le Monde reports.
"Russia cannot and must not win. As long as he (Putin – ed.) attacks, we will need to continue the military support necessary to preserve Ukraine," Macron said.
He also assured that Kyiv can count on the help of Paris in the "development of the world." According to him, the peace plan proposed by Zelensky is "the basis for discussing this path."
"We want to build peace together, a world that is fair for Ukraine, its people, their courage and allows us to build a security space for everyone," the French leader added.
In turn, Zelensky expressed gratitude to the allies for supporting Ukraine and called for increased military assistance.
"Ukraine knows how to be strong, it knows how to be grateful," Zelensky said, urging Macron and Scholz to provide aircraft and heavy weapons as soon as possible.
"The sooner Ukraine receives long-range heavy weapons, the sooner our pilots receive planes, the sooner Russian aggression will end and we can return to peace in Europe," Zelensky stressed.
Recall that on Wednesday evening Zelensky flew to Paris, where he met with Macron and Scholz.
Before that, Zelensky paid a visit to the UK, where he met with Prime Minister Rishi Sunak,

News from Perild.com in Telegram. Subscribe to our channel