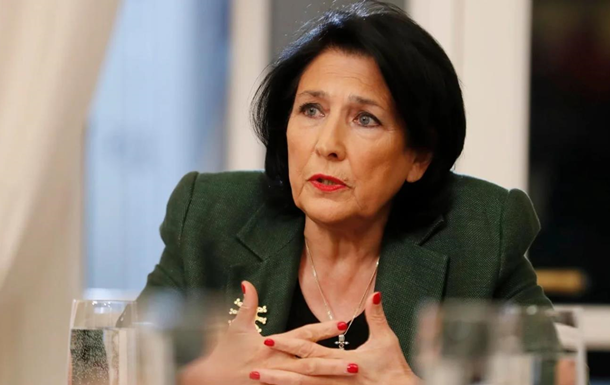 Photo: newsgeorgia.ge
President of Georgia Salome Zurabishvili
According to Salome Zurabishvili, everyone should stop speculating and playing with the future of the country, take responsibility and stop damaging its image.
The Tbilisi City Court, refusing to release Mikheil Saakashvili, sentenced the Georgian people to "walk in a vicious circle." This was announced on Tuesday, February 7, by Georgian President Salome Zurabishvili, Rustavi 2 TV channel reports.
"The President does not and cannot discuss the fairness/unfairness of this decision, the assessment depends on all of us – one thing is clear that by this decision the Georgian people were sentenced to walk in a vicious circle and remain hostages of the current situation," she said.
According to her, such discrediting is the result of the joint efforts of the ruling party and the opposition.
"This prevents us from properly developing relations with our partners, expressing solidarity with the Ukrainian people and country during this difficult test, which damages the Georgian tradition, hinders our recognized European perspective. The country is a hostage to this single issue," Zurabishvili stressed.
At the same time, the President of Georgia believes that pardoning Saakashvili will not help in this situation, because, "taking into account his previous statements and as a result of his crimes, which have not yet been recognized and for which he has not yet been punished, he is expected to , if released, would become an active opponent not just of the government, but indeed of the country's reputation and therefore of its European aspirations."
"The return of our face and restoration of trust requires one more effort, one more realization: on the part of the government – that this issue harms the country, and a legal and humane solution must be found; on the part of the opposition – that Saakashvili must once and for all admit his crime and liberate the country and opposition from the hostage conditions of leaving politics," Zurabishvili stressed.
The day before, the Tbilisi court did not satisfy the petition of Saakashvili's defense to release the politician or postpone his punishment for health reasons. On January 31, Giorgi Chaladze, a member of the party of the ex-president's associates, the United National Movement, announced that Saakashvili had been transferred to intensive care. After that, the Ukrainian Foreign Ministry called on the Georgian authorities to stop using physical and psychological violence against him and transfer him to Kyiv.
We have previously reported that the Rada will ask Georgia to send Saakashvili abroad for treatment.
In addition, later it became known that Poland was ready to accept the ex-president of Georgia for treatment.

News from Perild.com in Telegram. Subscribe to our channel