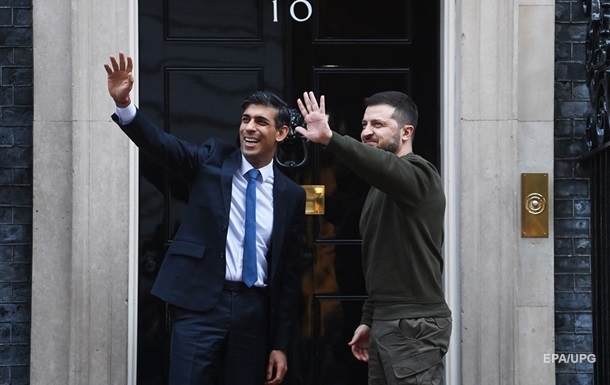 Volodymyr Zelenskyy held an official meeting with British Prime Minister Rishi Sunak in London, spoke in Parliament and met with King Charles III at Buckingham Palace.

Vladimir Zelensky left Ukraine for the second time since the beginning of the war. This time the President of Ukraine went on a European tour. He visited London, and then they are waiting for him in Paris. Zelensky flew to British Stansted Airport on a Royal Air Force plane.

The key issue is fighters
Volodymyr Zelenskyy addressed the deputies of both houses of the British Parliament at Westminster Hall, a historic building where important state events are held. Among other things, it was here that the British said goodbye to Queen Elizabeth II.
"We have freedom, give us wings to protect it!" – Zelensky called and proposed a new slogan for the joint struggle of Britain and Ukraine against Russian aggression: "Wings for freedom."
In the parliament, Zelensky was greeted with a standing ovation and invited to the stage with the words "Glory to Ukraine!", which the speaker of parliament uttered in Ukrainian.
In his speech, Zelensky compared what is happening with the joint struggle of Ukraine and Britain against the fascist invaders during World War II, saying that now "a new evil is raising its head." He thanked Britain for military assistance in the form of tanks and other weapons, but noted that Ukraine now needs fighter jets to protect its skies from Russian missiles.
Right during the speech, Zelensky handed the speaker of parliament Lindsey Hoyle the helmet of one of the most recognized and successful, according to the Ukrainian president, Ukrainian pilots. He called it a symbol of the continuation of the joint struggle in the sky: "In Britain, the king is an air force pilot, but today in Ukraine every air force pilot is a king."
According to the WSJ, citing a UK government spokesman, Prime Minister Rishi Sunak instructed Defense Secretary Ben Wallace to determine which combat aircraft the country could send to Ukraine.
Former British Prime Minister Boris Johnson called for Typhoon fighter jets and even more Challenger tanks to be provided to Ukraine.
"We have over 100 Typhoons. We have over 100 Challenger tanks. The best one-time use of any of these machines is to deploy them now to protect the Ukrainians, not least because that is how we guarantee our own long-term security," the ex-premier said.
Volodymyr Zelenskyy ended his speech to the deputies of both houses of parliament with a recollection of how two years ago, after visiting Westminster, he thanked for delicious English tea. "Today I will leave Parliament, thanking you all in advance for the powerful British aircraft," the President joked, which caused laughter and loud applause.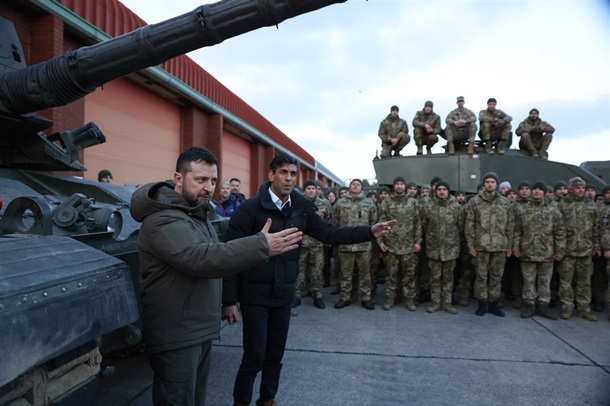 EPA

The king was worried
During Zelensky's meeting with King Charles III, the monarch told the guest that he was glad to welcome him to Buckingham Palace, that he was worried about him and thought about Ukraine for a long time.
Zelensky told how much support both houses of the British Parliament give to Ukraine, to which the king replied: "I am very happy."
It is planned that in Britain, Zelensky will also meet with the Ukrainian military, who are undergoing combat training here.
Britain intends to expand the training program for the Ukrainian military and prepare another 20,000 people for combat operations. It is reported that British military specialists, among other things, will train Ukrainian marines. Britain began training the Ukrainian military in June 2022, it promised to train 10,000 Ukrainian soldiers every 120 days.