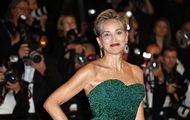 The celebrity's younger brother was 57 years old. Death came from sudden cardiac arrest on Sunday.
In the family of the world-famous Hollywood actress Sharon Stone, grief happened. At the age of 57, her younger brother died. It is reported by TMZ.
It is known that Patrick Stone passed away in Pennsylvania on Sunday early in the morning. The cause of death was a heart attack.
Subsequently, the celebrity herself confirmed the death of her brother. She recorded a video on her Instagram page, where, with tears in her eyes, she spoke about the death of a loved one.
"We truly lost my brother Patrick Joseph Stone to a heart attack. Like any family, we thank you for your love and support during this time of immense grief and appreciate all of your condolences. Yes, we have experienced tremendous loss over the past few years, as have many of you. And we are well aware that these losses are ours here on Earth. I am very grateful to you for the love and support that you provide, "said Sharon Stone.
Earlier it was reported that Sharon Stone told fans the sad news. Doctors discovered she had a large fibrous tumor.

Sharon Stone reprises her scandalous scene from Basic Instinct

News from Perild.com in Telegram. Subscribe to our channel