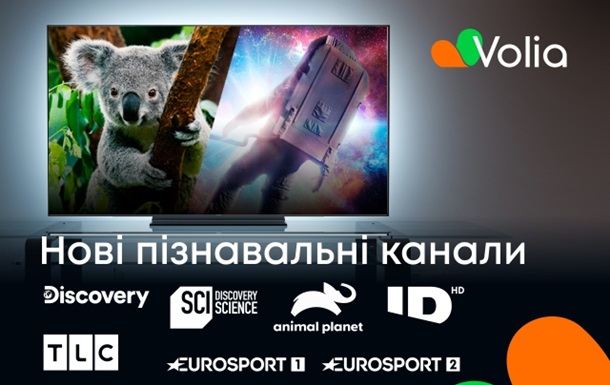 Photo: Provided by advertiser
One of the largest providers of TV content in Ukraine – the company Volia – from March 1, 2023, will add the world-famous channels of the WarnerBros.Discovery group to its network.
Incredible science TV programs, broadcasts of Grand Slam matches, documentaries about the life of wild animals, intriguing investigations, cooking programs and more will be available on the Volia network. In particular, subscribers, depending on tariffs and connection technology, will have access to Discovery, Discovery Science, Animal Planet, Investigation Discovery, TLC, Eurosport 1 and Eurosport 2 channels at no extra charge. The new channels will be included in almost all of the company's tariff plans.

"We made a lot of efforts to ensure that in such a difficult time the channels WarnerBros.Discovery became available in our network. The content of this company is extremely popular in Ukraine and around the world. Channels WarnerBros. Discovery offers world-famous titles that will delight any viewer: "Gold Rush", "Scavenger hunts", "Machinists", "Boss in the kitchen: Unforgettable food", "Nightmares next door", "Mysteries of planet Earth", " Mysterious NASA materials", "River Monsters" and many others. So we are sure: our subscribers will be able to satisfy all their content needs thanks to the comprehensive range offered by the channels WarnerBros. Discovery",– commented on the event at the Volia company.
So what channels does Discovery offer and what's interesting to watch?
Get to know the breadth and incredibleness of our world together with the popular science TV channel Discovery. Watch reality shows with star hosts who will talk about investigative mysteries, dream cars and exotic professions. Research, expert opinions, an interesting look at historical events, filming in the most remote corners of the planet – Discovery will present new knowledge and unforgettable impressions for children and adults. Here you will find documentaries that will be interesting to watch with the whole family.
Do you like to cook, travel, or do you follow the modern world of fashion? Then the channel TLC – this is just for you. Here you can observe the real life of stars, gain experience from personal stories and see how others build their family happiness. TLC is a bold and outspoken women's entertainment channel. The most popular wedding franchise Dress up for the weddinga show about relationships Bride's visa. Fiancé visa, transformation and reality shows including Doctor "Pimple", Save my skin and much more – all that will be available 24/7 to Volia subscribers.
Always interested in the question: who framed Roger Rabbit? Then you are on Investigation Discovery. The best detective mysteries and investigations. Want to learn more about global criminals to keep yourself safe? The forensics TV channel will tell about mysterious murders, mysterious disappearances and other crimes. And all this is based on real events and archival materials.
Those interested in science will be delighted Discovery Science. Incredible facts about space, technology, geology and the animal world. You will find all this on the specified channel. Explore the world with Discovery Science with ease and excitement!
Love watching a graceful leopard hunt an antelope against the backdrop of stunning views of the African prairie? Then Animal Planet is an absolute must watch for you. The world's greatest animals in their immediate habitat, in the highest resolution! Diving into the depths of the world's oceans and conquering the highest points of our planet – the world is getting closer together with Animal Planet!
If you are a sports fan, then channels Eurosport 1 and Eurosport 2 will find a sports broadcast that you like. The biggest sporting events in the world are now at your home. The Olympic Games, the Grand Slam tennis tournaments, the Tour de France cycling race and the 24 Hours of Le Mans car race… or maybe you like meditative curling or sophisticated snooker? Eurosport is about 3,000 hours of live sports broadcasts per year and many different programs of its own production!
So expect WarnerBros channels in Volia tariffs from March 1. Discovery – and watch the world's best TV content!