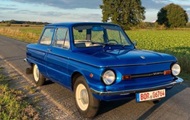 This is the latest version of this model. The car was produced from 1979 to 1994. This car is 37 years old.
In Germany, the Ukrainian Zaporozhets is sold dearly. The ZAZ-968M car has been restored and looks perfect. Moreover, its run for 37 years is 66 thousand km. The announcement was published on mobile.de.
The price of ZAZ-968M is 6200 euros, while in Ukraine it is almost 20 times lower.
ZAZ-968M received a new color, trim and floor mats, and tuning includes the installation of a sports cone air filter.
The car has a 1.2-liter petrol engine and a 4-speed manual transmission. The maximum speed is 125 km/h.
Recall that earlier Nissan, together with New Balance, released an unusual Kicks crossover. The car looks like a shoe.

In the USA, the old Zaporozhets was lit up

News from Perild.com in Telegram. Subscribe to our channel