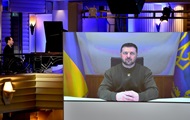 Zelensky during the Munich Conference compared Ukraine to David, and Russia to Goliath. Macron said that the Russian Federation "is not a country, but a mafia."
On February 17, the Munich Security Conference kicked off in Germany. This year the main topic of the meeting was the war between Russia and Ukraine. Therefore, our President Volodymyr Zelensky was one of the first to speak at the conference. He compared Ukraine with David, and Russia with Goliath. And he said that the latter "will definitely fall this year, but for this the world needs to unite."
It should be noted that for the first time in many years, Russia will not be present at the Munich Conference, and "this is an eloquent result of the year," Ukrainian Foreign Minister Dmytro Kuleba said.

"We need speed"
The panel with Zelensky's speech in Munich was called "David on the Dnieper". The President of Ukraine noted that, in his opinion, the title of the panel does not do justice to the scale of what is happening. According to him, not only Ukraine, but the whole of Europe is in danger, and the Thames and the Spree may also be in place of the Dnieper.
"Being David means fighting. And we are fighting. Being David means having a sling to win. We don't have the David Sling from Israel yet. But I believe it's only temporary," the president said.
"Goliath has no chance. But unfortunately he has potential… He is trying to buy more time for his aggression by trading with the world… So we need to hurry. We need speed," he added.
Zelensky also assured that there is no alternative to Ukraine's membership in the EU and NATO.
"Is it time now for Ukraine to become a full part of the European Union? For most Europeans, this is no longer a question. We have already received the status of a candidate country. We are already preparing to start negotiations on membership," the president said.
He reminded that Ukraine is already connected with Europe by economy, logistics and energy. Zelensky also urged not to believe the propagandists, because now Russia is no longer such a powerful state as it was on February 24, 2022.
"Now there are more of us, and we are definitely stronger. I am sure that Russia was much stronger then, but now it is not so powerful and they do not have so many forces. It seems to me that this is our advantage. So, do not believe the propagandists believe in what is on the battlefield," Zelensky said.

"Irritated" Scholz
German Chancellor Olaf Scholz, who took the floor shortly after the President of Ukraine, said that we need to prepare for a long war, but did not answer a question from presenter Christiane Amanpour: "How long is this?"
He also called on international partners who have Western-style battle tanks to urgently send them to Kyiv.
"All those who can send battle tanks of this type should do so. Defense Minister Pistorius, Foreign Minister Burbock and I personally strongly urge this. Germany will do everything in its power to make these decisions easier for partners. For example, by teaching Ukrainian soldiers how to drive tanks here in Germany, or by providing support in terms of supplies and logistics," the German chancellor said.
At the same time, Scholz continued to maintain a "balance between the maximum possible support for Ukraine and the prevention of unwanted escalation."
He also reacted somewhat irritably to the presenter's question about the possible supply of fighter jets for Ukraine.
"You are asking me about something that is not currently under consideration," the Chancellor replied.

"Not a country, but a mafia"
French President Emmanuel Macron, during a speech in Munich, accused Vladimir Putin of telling him last year that PMC Wagner had nothing to do with Russia.
"I spoke to Putin a year ago and he assured me that Russia has nothing to do with the Wagner group," he told an audience at a security conference.
The head of France noted that at that time he believed Putin's words, but now he understands that Russia is "not a country, but a mafia."
"I accepted it. Today we see that the Wagner group is involved in Russia's war against Ukraine. This means that Russia is an ordinary mafia state," he said.
Macron also advocated reform of the UN Security Council and some other organizations.
"Yes, I think we have to reform our world order. It is very urgent, we have to balance the global order and make it more inclusive," Macron said, answering questions after the speech.
He admitted that he was "very impressed with how much we are losing the trust of the global South."
In this regard, a conference will be held in Paris this summer to discuss the reform of the IMF and other bodies. And the UN Security Council should certainly be part of the change.
"Let's be frank: one permanent member (Russia – ed.) has chosen to violate the rules that it must uphold. Therefore, we must reform this and change," Macron concluded.

News from Perild.com in Telegram. Subscribe to our channel