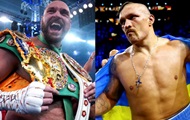 Eddie Hearn noted the specifics of the financial issue.
Head of Matchroom Boxing promotion Eddie Hearn shared his opinion on why WBC heavyweight champion Tyson Fury and WBA, WBO and IBF title holder Oleksandr Usyk will not fight in Saudi Arabia.
According to the functionary, the fight will not take place in the Middle East, because the individuals concerned are not ready to pay the requested cost to the boxers.
"The fight won't take place in Saudi Arabia because it doesn't involve Anthony Joshua. The Fury-Usyk fight isn't big enough. It's not big enough for Fury to get the amount he wants because it doesn't involve Joshua."
Read also: 'I don't even want to mention his name': Fury's promoter spoke sharply about the possibility of a fight with Joshua
"Only Joshua can bring that kind of money. But I hope we can get Fury vs. Anthony Joshua and then Tyson gets the amount he wants. I think the Saudis will definitely want to pay for this fight," Boxing News 24 quoted Hearn as saying. .
Previously, Usyk turned to Fury, appearing in an unexpected way.