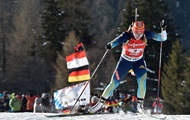 In the national team of Ukraine there was an emergency replacement.
On Saturday, February 18, the Biathlon World Championship will continue in Oberhof (Germany). Relay races for men and women will be held as part of the competition day.
Yuliya Dzhima was supposed to be part of the Ukrainian women's team, but she will miss the race. The biathlete will not be able to take part in the relay due to illness.
Instead of Jima, Daria Blashko will perform, who will represent Ukraine in the second stage.
Note that the women's relay will start at 16:00 Kyiv time.
Recall that online broadcast of the men's relay will be available on ISPORT.ua, which will begin at 12:45 Kyiv time.