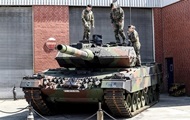 Lisbon is ready to transfer three of its German-made tanks to Kyiv next month, CNN notes.
Portugal is ready to send three Leopard 2A6 battle tanks to Ukraine in March this year. This was stated in the Portuguese Ministry of Defense, CNN reports.
"The decision was made within the framework of ongoing contacts with allies and partners," the statement said.
According to the channel, several countries have offered to transfer modern tanks to Ukraine. However, not everyone has confirmed how many they plan to send.
"Most of the south and east of Ukraine, where many fierce battles take place, is an ideal area for combinations of modern Western tanks and armored vehicles to counterattack," the media noted.
The journalists added that Leopard 2, Abrams and Challenger 2 have large machine guns that destroy infantry in open locations.
Leopard 2 has another advantage – the availability of ammunition for the 120 mm gun in the armies of NATO member countries.
As previously reported, the Netherlands, together with Germany and Denmark, plan to supply almost 100 Leopard tanks to Ukraine.

The Netherlands will give Ukraine ammunition for Leopard 2

News from Perild.com in Telegram. Subscribe to our channel