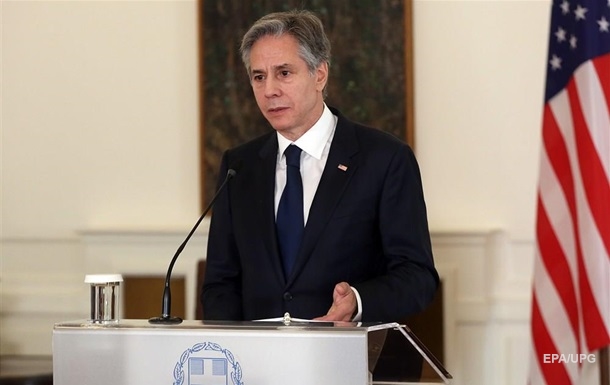 Putin's New START Statement Caught Blinken in Athens
The United States will closely monitor what Russia is actually doing, the head of the State Department assured.
The United States considers Russia's decision to suspend participation in the Strategic Offensive Arms Treaty (START) irresponsible. This was stated by US Secretary of State Anthony Blinken during a visit to Athens, CNBC reports on Tuesday, February 21.
"Russia's suspension announcement is extremely unfortunate and irresponsible," he said.
Blinken assured that the US would be watching closely what Russia was actually doing.
"We will, of course, make sure that in any case we take a proper position for the security of our own country and the security of our allies," the head of the State Department added.
Recall that today, during an address to the Federal Assembly, Russian President Vladimir Putin announced the suspension of Russia's participation in the START Treaty. He also ordered to prepare for the start of nuclear tests if the United States does so.
In turn, NATO Secretary General Jens Stoltenberg said that such a decision by Russia would dismantle the entire architecture of arms control.
---

The Strategic Arms Reduction Treaty (START) is the only remaining element of the once comprehensive system of arms control treaties between the United States and Russia. This agreement also limits the number of strategic nuclear weapons, such as long-range missiles.

Under START, each country can have no more than 800 nuclear weapons carriers and no more than 1,550 warheads. In February 2021, US Presidents Joe Biden and Russian President Vladimir Putin extended the agreement until 2026.

The New START provides for regular mutual checks at ICBM bases, strategic submarine bases and strategic aviation air bases, as well as at loading, storage, repair and test sites. From 2011 to 2020, the parties carried out 328 such checks. Since 2020, they – by mutual agreement – ​​have not been held due to the pandemic.

In early February 2023, the United States accused Russia of violating the START provisions. This is due to the fact that Moscow refused to allow inspection activities on its territory.

In response, Kremlin spokesman Dmitry Peskov said that he did not see "hints" to dialogue on START. He also accused the United States of destroying the legal framework in the field of arms control and security.

News from Perild.com in Telegram. Subscribe to our channel