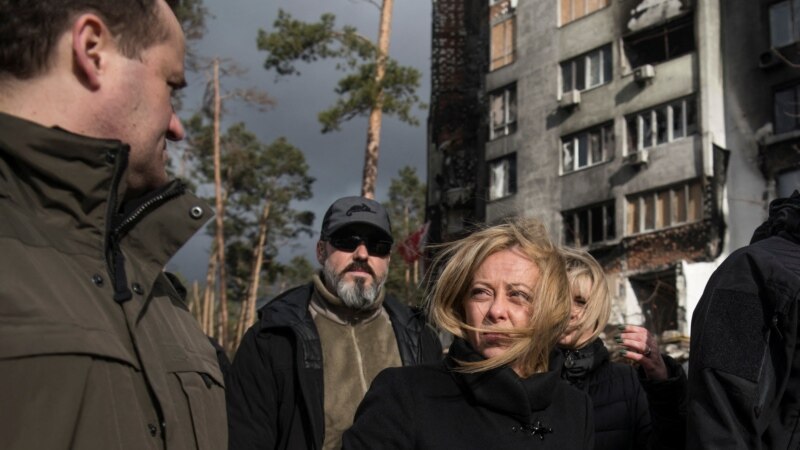 Italian Prime Minister Giorgio Meloni on Tuesday during a visit to Ukraine promised further support for Kyiv in the face of the Russian invasion.
Meloni arrived in Kyiv by train from Poland. She had scheduled negotiations with Ukrainian President Volodymyr Zelensky. This is Meloni's first visit to Ukraine since she took over as prime minister at the head of a right-wing coalition last October.
"Any peace that entails the surrender of Ukraine to the invading Russian forces cannot be considered a real peace," Meloni said after talks with Zelensky. But, according to her, the supply of Western military aircraft to Kyiv now "is not a subject of discussion." Speaking at a joint press conference with Volodymyr Zelensky, the Italian prime minister said that Italy is considering sending additional air defense systems to Ukraine. Meloni stressed that the defeat of Ukraine is fraught with the fact that aggression will spread to other European countries.
The Italian prime minister, among other things, visited the Kyiv suburb of Irpin, where mass graves were discovered after the withdrawal of Russian troops. Speaking there, George Meloni called "propaganda" the words of Russian President Vladimir Putin in a new message to the Federal Assembly. "Part of my heart hoped for other words, a step forward, but it was propaganda," Meloni said.
Putin, speaking on February 21 to the political and military leadership of Russia, religious leaders, stressed that Moscow will achieve its military goals in Ukraine, he also accused the West of trying to destroy Russia, Reuters notes.
On Tuesday, the Italian prime minister visited another Kiev suburb, Bucha, where the Russian military is also accused of killing civilians. Moscow has repeatedly denied involvement in the massacres. In Bucha, Meloni burst into tears when she was shown pictures of dead residents.
George Meloni arrived in Ukraine the day after the visit of US President Joe Biden to this country. He said that Washington will continue to support Ukraine, which resists Russian aggression, "for as long as it takes."