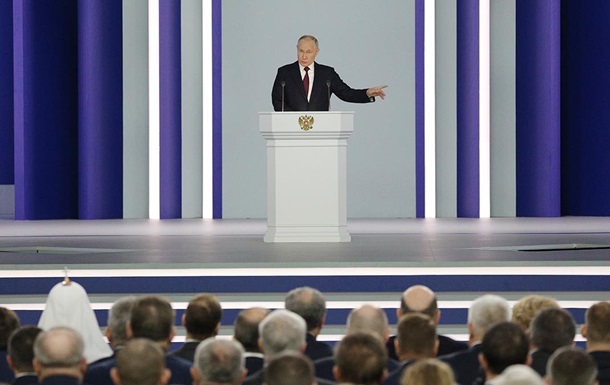 Photo: Vedomosti
Vladimir Putin addressed the Federal Assembly
Vladimir Putin's speech before the Federal Assembly was criticized by many Russian bloggers.
Nothing new and nothing important. Such an assessment is given to the address of the head of the Kremlin to the Federal Assembly on Tuesday, February 21, in the report of the Institute for the Study of War (ISW).
The document says that Putin did not make any important announcements, nothing new was said about the war in Ukraine.
"Even the rhetoric about Russia's withdrawal from the strategic arms treaty has not become new," the analysts noted.
They noted that Putin could have used the event to formulate new goals and means to achieve them, such as announcing another official wave of partial mobilization, calling a "special military operation" a war, or taking additional steps to mobilize the Russian defense industrial base, but he didn't do any of that.
"Most attention was drawn to his statement about the suspension of Russia's participation in the Strategic Arms Reduction Treaty. Perhaps Putin made this announcement in order to reintroduce nuclear rhetoric into the information space, thereby diverting attention from the general meaninglessness of the rest of his speech," experts suggested. .
ISW analysts indicated that the speech was criticized by many Russian bloggers.
In particular, they denounced his failure to put forward new aims for the war or outline new measures to support it or hold Russian officials accountable for numerous military failures.
Recall that today Putin delivered a long-promised address to the Federal Assembly. His speech became a set of Russian propaganda clichés. And in fact, the only news from all this verbal flow was that Putin announced the suspension of Russia's participation in the Strategic Offensive Arms Treaty (START).

News from Perild.com in Telegram. Subscribe to our channel